Information for the Press Media, Buyers, and Details about Participation for Berlin Fashion Week in July 2019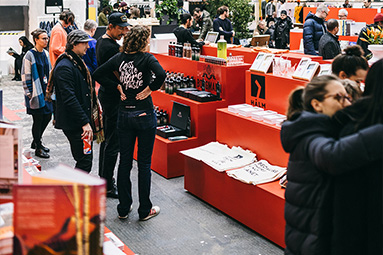 Once again Berlin turns into the metropolis of fashion between July 1 to 6, 2019.
With its numerous trade fairs, shows, conferences and side events from the sustainability-, technology-, and contemporary industry, the 'Berliner Modewoche' attracts designers, representatives of the press media and entrepreneurs from all over the world. Young creative folks as well as established experts will be inspired by the latest collections, technical developments or sustainable concepts and also use the opportunity for an exchange amongst each other.
Please note that the Berlin Fashion Week itself does not handle accreditations and tickets but the following information will tell you who to turn to:
Registering for Fashion Shows and Presentations
MBFW, 1st- 3rd July, 2019
'Follow MBFW Focus Fashion' – is the slogan of the further developed July issue of MBFW. The focus of the attention-drawing show platform this summer is digital and up-to-date. Selected high-end labels are presented in the ewerk in the Wilhelmstraße. This location with its industrial flair is a most suitable backdrop and place for staging high-end fashion shows impressively. Those interested in fashion will be able to follow the live transmission in the square of the location, in KUBO and online. Amongst others, the livestream can be watched on the MBFW homepage. Find more information on MBFW under: http://mbfw.berlin/
You would like to contact individual designers? Please contact them directly. You will find the individual contact details on the relevant designer's website.
Registering for Trade Shows and the Premium Group Conference
The Premium Group offers the 'All in one Premium Group' ticket again for their events this July. Register only once and you can visit the trade shows Premium Exhibitions, SEEK, Show & Order, as well as the #Fashiontech conference, organised by the Premium Group with just one ticket.
Find more information under: https://visit.premium-group.com/de/
Premium Exhibitions, 2nd- 4thJuly, 2019
PREMIUM stands for 'Advanced Contemporary Fashion' and serves as an interdisciplinary network platform with excellent B2B services. Premium does not only want to underline the entrepreneurial aspect and promote business relationships, but also strives to inspire and therefore continuously works on developing and presenting unique theme worlds. The exhibitors focus on selected key-looks which offer the visitors a good overview.
This year again, the subject of sustainability is an important issue. It is for this reason that a special focus is placed on plastic crockery, separating waste and promoting Eco Brands in particular.
Find more information on PREMIUM under: https://www.premiumexhibitions.com/
Show&Order X Premium: Trade Show for Fashion, Lifestyle & Experience, 2nd- 4th July, 2019
It is here, on the six gallery-type floors of the KÜHLHAUS on the premises of STATION-BERLIN, that again about 200 fashion- and lifestyle brands show their latest collections. Located in direct vicinity of Premium, buyers will find a familiar concept that is aimed to create an emotional experience on so-called 'Experience Floors'. In particular visitors from the concept-store section will be inspired by a mixture of fashion brands mingled with interior decoration, beauty, music, art, fragrances and food.
Apart from food and beverages there is also a Beauty Lounge for a short respite.

Find more information on Show&Order under: https://www.showandorder.de/
SEEK, 2nd– 4thJuly, 2019
SEEK is the trade show for Urban- and Streetwear and takes place in the Arena Berlin as usual. This time, however, its main focus is on social commitment and SEEK joins forces with the Berlin NGO 'One Warm Winter' to motivate exhibitors to donate old samples. Following the successful launch of Trade Union last season, the networking concept will again get its extra space as pioneers and visionaries of the fashion industry.
After Seek celebrated its 10th anniversary in January, there are still a few anniversaries in the Street Culture scene coming up for celebration this season.
Find more information on a visit to SEEK under: https://www.seekexhibitions.com/
#FASHIONTECH BERLIN, 4thJuly, 2019
#FASHIONTECH BERLIN is involved in future-oriented subjects such as digital transformation, innovation and disruptive technologies.
On Thursday, 4thJuly, there is a time for listening and learning, once the 'Knowledge- und Content-Hub für Technologie' opens its doors. This time it takes place in the Festsaal Kreuzberg, immediately next to Seek and the important subjects this year are: Digital Business, Street Culture, E-Sports & Gaming in Fashion, Sustainable Future. International experts have been invited, who will offer insight into their work and share valuable special knowledge.

More information on #FASHIONTECH BERLIN under: www.fashiontech.berlin
Registering for further Trade Shows and Conferences
Panorama Berlin, 2nd – 4thJuly, 2019
'BERLIN VIBES' – is this year's slogan under which Panorama combines the subjects of Infotainment, Eventisation and Matchmaking. Once the leading trade show of the Berlin Fashion Week re-orientated itself last season and - amongst others - included the Selvedge Run trade show, there will be a diversified offer of a lecture programme as well as a large range of start-ups, agencies and service providers of retail solutions.
Panorama inspires with a wealth of inspiration by offering 600 brands from the sections of Smart Formalwear, Casual- and Sportswear, Contemporary Styles, Denim, Heritage and Streetwear, Accessories and Shoes as well as sustainability and lifestyle.
More information on Panorama Berlin under: https://www.panorama-berlin.com/
Selvedge Run & Zeitgeist, 2nd – 4th July, 2019
The ninth edition of Selvedge Run & Zeitgeist is ready to go and again presents a series of new entries from the section Streetwear, Urban Outdoor, Heritage, Denim, Craft and Current and thus extends its market portfolio.
Being an international meeting point for buyers and quality brands, Selvedge Run & Zeitgeist will again set up a central 'Market Place' where selected concept brands can be ordered and bought.
The location is situated at the south entrance (Eingang Süd) of the ExpoCenter.
More information on Selvedge Run & Zeitgeist under: http://www.selvedgerun.com/
NEONYT Global Hub for Fashion, Sustainability and Innovation, 2nd – 4thJuly, 2019
As Greenshowroom and Ethical Fashion Show were replaced by NEONYT in January 2019, they are the unique hub for fashion, sustainability and innovation and can again be found in the impressive location of the Kraftwerk in the Köpenicker Straße.
The Neonyt Hub consists of the Trade Show, showcases, the Fashionsustain conference and the Thinkathon workshop, the Fashionimpact Forum, the Knowledge Lounge, the influencer format Prepeek and, last but not least, networking events and the Neonyt party.
Neonyt dedicates this year wholly to the subject of 'water', and with this wants to appeal to the fact that this reducing resource determines our future significantly.
The Neonyt Trade Show presents a range of Contemporary, Casual- and Urbanwear, Denim Street- and Sportswear, as well as Business Outfits by leading brands and newcomers.
More information on NEONYT under: www.neonyt.com
Fashionsustain, 2nd _ 3rdJuly, 2019
The international conference Fashionsustain is part of Neonyt and wants to talk about subjects of sustainability with their group of innovative speakers. Apart from the important subject of 'water', the subject of trade will also be focussed on this summer. This will be supplemented by the exhibition area of 'Showcase of Change'. The conference is organised by the Messe Frankfurt.
More information on Fashionsustain under: www.fashionsustain.com
Side Events and After Show Parties
Our diary also contains numerous further events all around the Berlin Fashion Week. The trade shows as well as the fashion shows are shown there as soon as they are made public. Here you can also find Aftershow-Parties, Pop-Up-Shops, Beauty-Lounges and further side events.
You will find the official Berlin-Fashion-Week-Diary under: http://www.fashion-week-berlin.com/kalender.html
Want to take public transport to the fair trades, events and shows?
The fashion capital Berlin offers the big advantages of an extensive public transport. How to get from location to location by underground or suburban railway you can check out on our map: