Berlin label GmbH combines sustainability with urban lifestyle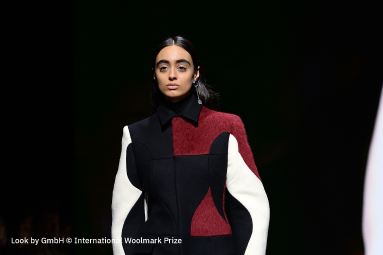 The sustainable Berlin label GmbH has made it to the finals for the world-renowned award for up-and-coming fashion talent in 2020.
With their label "GmbH", founded in 2016, the two Berliners Serhat Isik and Benjamin Alexander Huseby have long since made a name for themselves in the international fashion scene. The idea for this special design collective was born in long Berlin club nights among friends. Since then, fashion photographer Huseby and fashion designer Isik have been com­bining sustainability, fair production and political statements in their collections. A recurring pattern of the individual design concept is the combination of elements from the Middle East with those from the world of urban Berlin lifestyle. For the creation of their looks, the talented young designers mainly use fabrics and materials which come from overproduction in the luxury industry. For the GmbH collective, sustainability is more than just a label that sells well. Above all, it is an attitude and a comprehensive statement. Their designs incorporate personal experiences, views and an affinity for nightlife as well as a clearly multicultural background.
The independent jury of the International Woolmark Prize also recognized how much talent the Berlin label has to offer. From a total of more than 300 applications from almost 50 countries, the design collective was chosen as one of the ten finalists this year. The condi­tion for participation was the presentation of a capsule collection with six merino wool looks, whose production processes were designed to be transparent and comprehensible.
In February 2020, the Irish designer Richard Malone was able to convince the jury. In addi­tion to the prize money of AU$ 200,000 (approx. € 122,000), he will also be given the opportunity to have a special Merino wool collection marketed in leading boutiques and department stores worldwide via the partner network of the International Woolmark Prize. The prize was originally initiated in 1953 by an initiative of the International Wool Secretariat. Since then it has been awarded annually to outstanding fashion talents from all over the world. The prize has already been won among others by fashion greats such as Karl Lager­feld and Yves Saint Laurent.