Eco-Friendly Textile Colouring: These innovative businesses present their solutions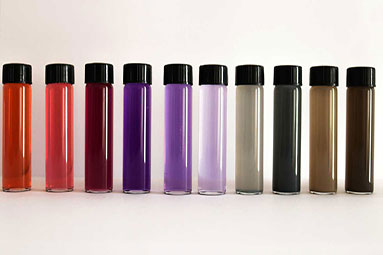 Water is a valuable natural asset and needs to be used with care also in the textile industry. Three innovative companies in the sector demonstrate that it is possible to colour textiles in an eco-friendly way.
The FashionSustain conference, which took place during the Berlin Fashion Week within the Neonyt fashion trade fair in January, was dominated by the topic of fashion and water. Clean water is a valuable natural asset. The fashion industry needs large amounts of water for colouring textiles, often using toxic chemicals. According to estimates by the World Bank, about 20 percent of industrial water pollution worldwide is caused by dyeing and treating textiles with chemicals. However, companies like We are SpinDye, Algalife and the Vienna Textile Lab now offer new technologies and procedures which allow a more eco-friendly dyeing.
SpinDye® saves water and chemicals

Within the framework of the Neonyt fashion fair trade, the Swedish company We are SpinDye presented a new and more environmentally friendly colouring method. SpinDye® requires a lot less water than traditional methods. Synthetic fibres, viscose and mixed fibres can be dyed in a resource-efficient way, by adding the pigment even before the material is produced. The colour pigments are added early in the process of melting the recycled plastic raw material, which is subsequently used to make yarn. According to the manufacturer, this procedure saves around 75 percent of water, 90 percent of chemicals and 30 to 40 percent of energy. The carbon dioxide footprint is supposed to be 30 percent less than in traditional dyeing methods. The dyed yarns are colourfast and particularly suitable for use in sports and outdoor clothing.
Textiles and colours from seaweed
The Berlin-based start-up business Algalife has developed fabrics and colours based on algae. With this idea, they were even awarded the third place at the Global Change Award. The textiles that are developed from the microorganism algae are even able to release antioxidants, vitamins and minerals to the skin when worn and offer nourishing and protection to the body and skin. This method fully eliminates the use of harmful chemicals. These bio-based pigments and fibres have a smaller ecological footprint than traditional manufacturing and dyeing methods. To produce one T-shirt, Algalife needs only one fifth of the water amount that common manufacturers use for a similar fashion item.

Eco-friendly dyeing using bacteria
The Vienna Textile Lab produces natural textile dyes using naturally occurring bacteria. The executives of the innovative company, which is based in Vienna, explain that, "We gather the bacteria from nature, cultivate them on an industrial scale and extract the colourant in order to dye various textiles". Compared to traditional natural colourants, their colours are more intensive and do not need agricultural surface. The bacteria can be cultivated worldwide without any harm to the environment. Thus, colourants made from bacteria are a resource-efficient, biological alternative to common pigments.
As different as these three methods may be, they have one thing in common: placing the focus on a more sustainable textile industry with humans and the environment in mind. With these innovations, the three start-up businesses are a genuine game changer who can make a valuable contribution to achieve international sustainability goals.
More information:
https://spindye.com/
https://www.alga-life.com/
http://www.viennatextilelab.at/