Interview with Designer Judith Bondy about her brand BONDY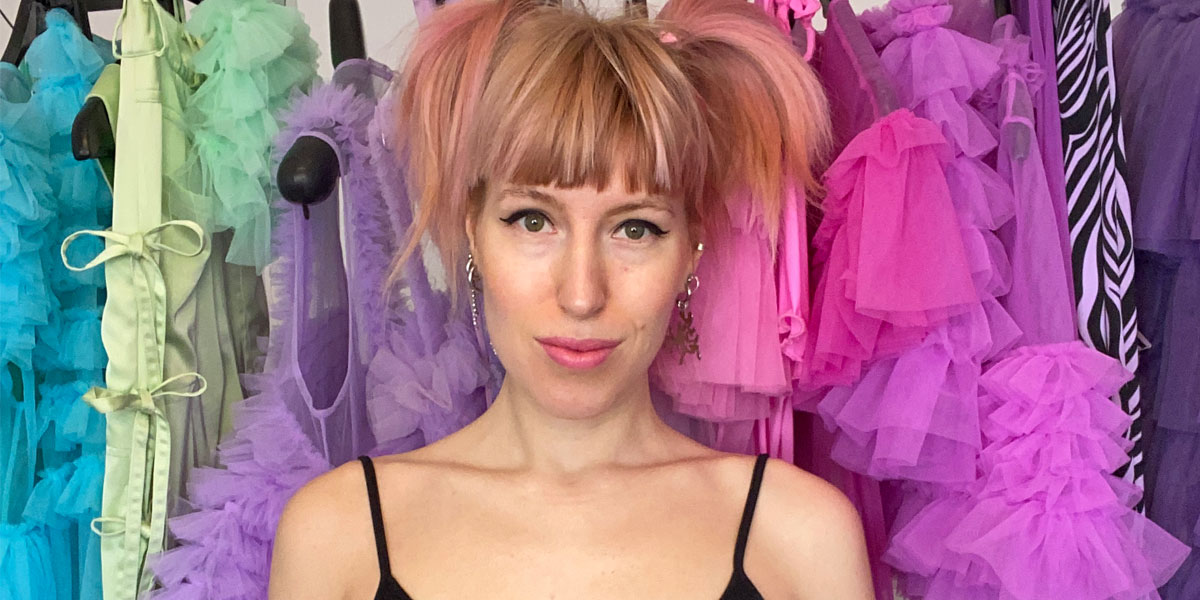 Sustainability.
That is the motto of the Berlin fashion label BONDY. Thus, it is part of a new wave of designers who reject destructive aspects of the fashion industry. The mission is to produce morally and sustainably. The majority of all fabrics represented by the brand are second hand or reclaimed from dead stocks into creations. BONDY garments are primarily made to order or in limited quantities to meet demand and minimize waste.
In this interview, Judith Bondy, designer and founder of her first fashion label, not only shares her visions with us, but also takes up the positive change that sustainable consumption brings with it.
---
Hi Judith, can you briefly introduce yourself and especially your brand Bondy - what does it stand for?
I was born in 1989 in Berlin Schöneberg, grew up there and moved to Kreuzberg after graduating from high school. When I was 12, my grandma (a seamstress) bought my mother a sewing machine, which I immediately took up. First I sewed teddy bears and later I pleated skirts from old curtains. After graduating from high school, I started my fashion design studies at HTW, studied one semester at AMFI (Amsterdam Fashion Institute) and moved back to Berlin to the Weißensee School of Art, where I graduated with a Master's degree in 2018. Since I got a lot of media attention due to the great success of my master thesis, I founded my label BONDY in the same year.
With BONDY I create fantasy worlds and use it as an interdisciplinary platform for collaboration with other creatives. Our trademark is the material "tulle", from which we create modern couture. In other words: producing elaborate dresses that form the interface between art and fashion. In addition, I work with unconventional materials that often contrast with the rather lovely and soft tulle. Fashion is still too often thought of traditionally and therefor, fast-moving trends are being chased. I reject both of these. I have made it my mission to improve the fashion industry and continue to promote the consumption of more sustainable fashion. Our form of fashion should be consumed consciously and in unconventional spaces like collaborative retail spaces and innovative digital platforms.
The digital platform is an essential part of our modern lives anyway, which is why I want to ensure the relevance of my company by integrating digital work in the future, for example by collaborating with 3D artists. With my new collection NEVEREND I celebrated my debut at the Berlin Fashion Week in March 2022. Instead of a fashion show, we chose a presentation where the models stood in a set, moved and interacted with the audience. In the background, a DJ put on electronic music so the presentation could turn into a party. Our fashion should be accessible to everyone and the presentation should be fun for everyone.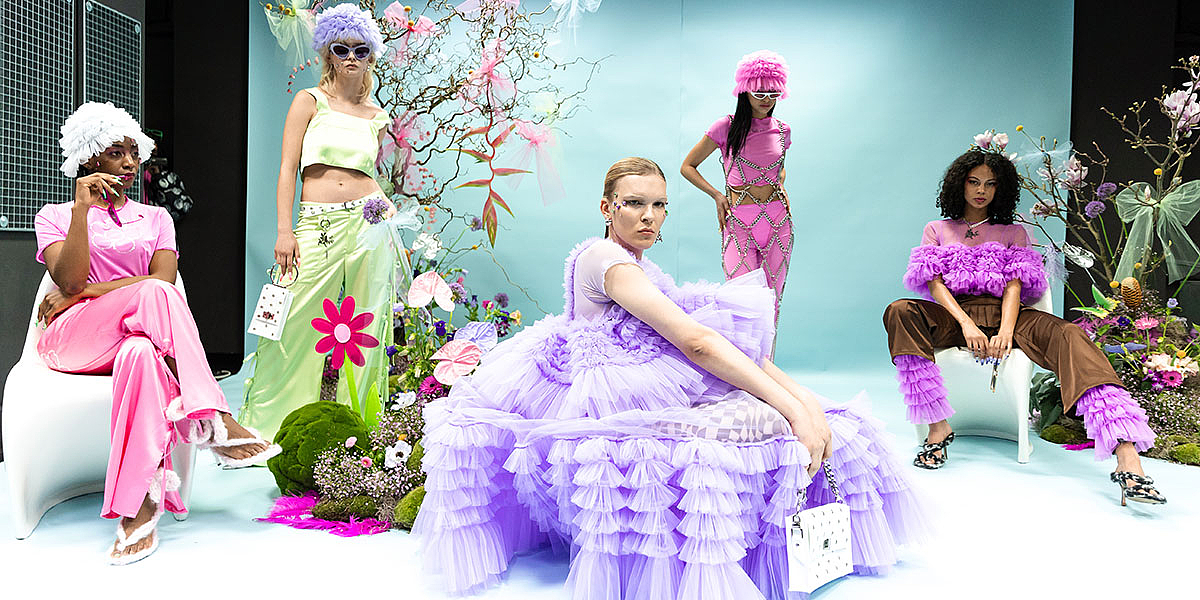 At the last Berlin Fashion Week you showed your collection at Platte.Berlin. What was it like? What makes the new concept of Platte.Berlin for you?

The PLATTE is very representative for Berlin - a panel building in the middle of Alexanderplatz, which is multidisciplinary and offers high fashion as well as events and workshops.
The PLATTE represents young, interesting designers who, like us, reject the traditional and outdated system of fashion. PLATTE stands out from other locations, it's loud, bold and unique, and we like that a lot. In addition, the team of PLATTE has also strongly supported my label in recent years and I am proud that I was able to celebrate my debut there.

You said yourself that you as a brand do not go with the fashion cycle - why is that?

As a slow fashion couture designer, I challenge the aspects of the fashion industry that society has adapted into normality. For example, I usually only release one to two collections a year with smaller releases in between and don't stick to the typical seasonal schedule. In my opinion, we don't need Cruise, Resort, Pre-Fall and Holiday collections in between the two big collections a year.Instead, I create high quality, well thought out pieces that don't follow the current runway season trends. This way, individual consumers are better informed about how and where their clothes are made, which challenges the establishment of the fast-fashion industry and encourages sustainable consumption of garments that can be worn for a lifetime. Our collections are not meant to be seasonal which keeps the relevance of each piece even after years. We don't want to limit ourselves and always want to surprise with something new. Maybe there will be interiors or something similar instead of a collection.

You produce your collections from deadstock material (material that could not be sold) and you say quite confidently that slow fashion is extremely important to you. This all pays into sustainable consumption and production - do you do anything more?

By producing mainly one-offs in limited quantities, we only produce to meet our needs and create as little waste as possible. This way we can focus on the quality of our garments and ensure that every detail is perfected.
The continuous journey to sustainable production means that we have to be innovative constantly. We source the majority of our fabrics second hand and incorporate old stock and vintage textiles into new creations. We recently began producing jewelry with the same sustainable mindset, sourcing vintage beads in limited quantities to create unique pieces. While some view sustainable fashion as an obstacle, we take the opportunity to challenge our creativity by using available materials and repurposing them to fit BONDY's aesthetic.
Additionally, we lend our samples for a rental fee to challenge the idea of "having to own" something.
You could just borrow a dress from us for your wedding instead of buying it to wear just once.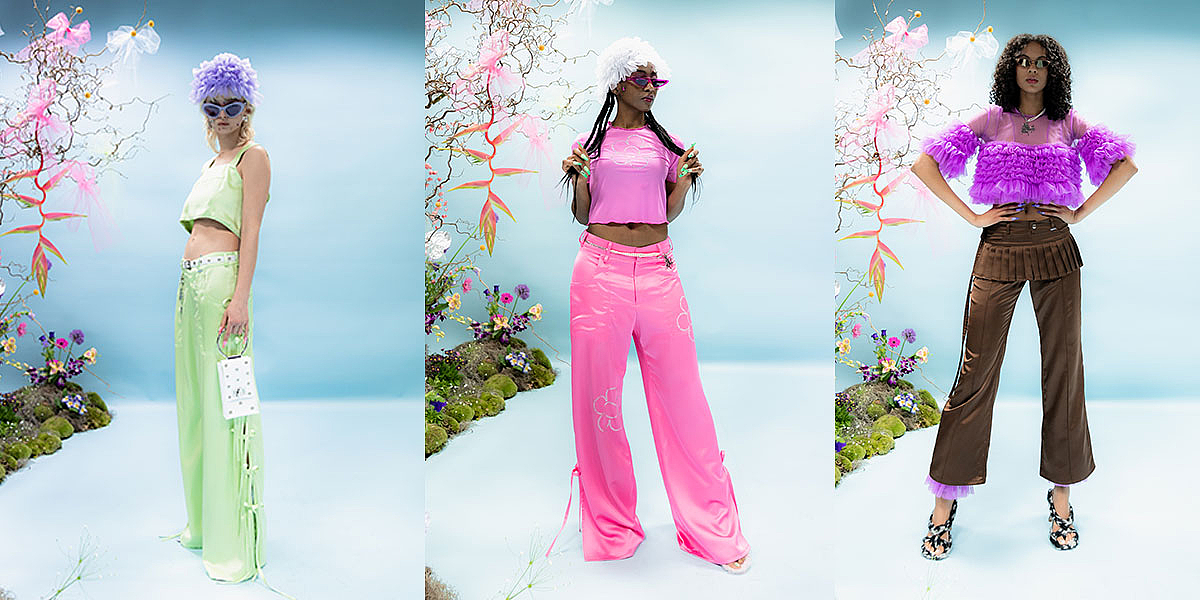 Sustainable fashion is becoming more and more important not only for designers but also for consumers - what do you think about how to make consumers even more aware or even enthusiastic about sustainable fashion?

We engage in discourse with our customers especially via social media. We explain our pricing strategies transparently, for example how much it costs to produce a t-shirt as fairly as possible and how this translates into a realistic consumer price. In our experience, customers are more willing to pay a certain price for fashion if they can understand the pricing and feel better about shopping because of a transparent production chain. At the same time, some of our customers are very young and don't have that much money. Here we then offer occasional discounts so that they can afford sustainable clothing from us.
Otherwise, it is important to never stop pointing out the grievances in the fashion industry. As a young designer, I see it as my duty to make the fashion industry a little better. Simply producing beautiful products is not enough here.

Berlin stands for sustainable fashion, a lot has happened here in recent years. How do you see the development and is there still room for improvement?
Consumers today are much more critical than they used to be and we totally welcome that.
This increases the pressure on the fashion industry.
For us small designers it is partly easier to work sustainably because we are more flexible due to our size. Nevertheless, the big companies, especially in the fast fashion sector, would have to completely restructure to become more sustainable.

Unfortunately, I see a lot of greenwashing. In other words, sustainability is advertised but not implemented, or the share of sustainably produced clothing is negligible compared to the main business. In the end, it's about consuming less and more consciously. Because of all the greenwashing, the credibility of sustainability in fashion is also very much in question. That's actually what annoys me the most. Because it means that the big companies are putting additional obstacles in our way. Nevertheless, it is an important and legitimate question whether fashion can be sustainable at all. In the end, there is definitely still room for improvement, but I am optimistic and have great hope when I look at the younger generations.

Does Berlin inspire you in your fashion creations (I think you can already see hints of various subcultures)?

Definitely - I was born here and grew up in a politically left-wing oriented home, i.e. my parents were part of the student movement in 1968.
Already in my early youth I spent lots of time in subcultures and was socialized there. I was also influenced by the nightlife and the extravagance that was lived there. As a result, I feel that fashion here is more open and relaxed than in other big cities. I don't think in any other city you can go out to eat in a star restaurant wearing sneakers. In Berlin, you wear the Prada bag with the jacket you found on the street before. People here are constantly breaking the rules and I like that. This cheeky attitude and resulting diversity inspires me to this day.
At the last fashion week you showed a great show - will we see you again at the next Berlin Fashion Week in September?
Of course we would like to be part of the fashion week again.
However, since we always want to try something new, we haven't planned anything concrete yet. Maybe there will be something else coming from us instead of a collection. I can't say anything more specific yet. In any case, there is no lack of ideas.

Thanks for the nice interview!