Interview: Ukrainian Designer Jean Gritsfeldt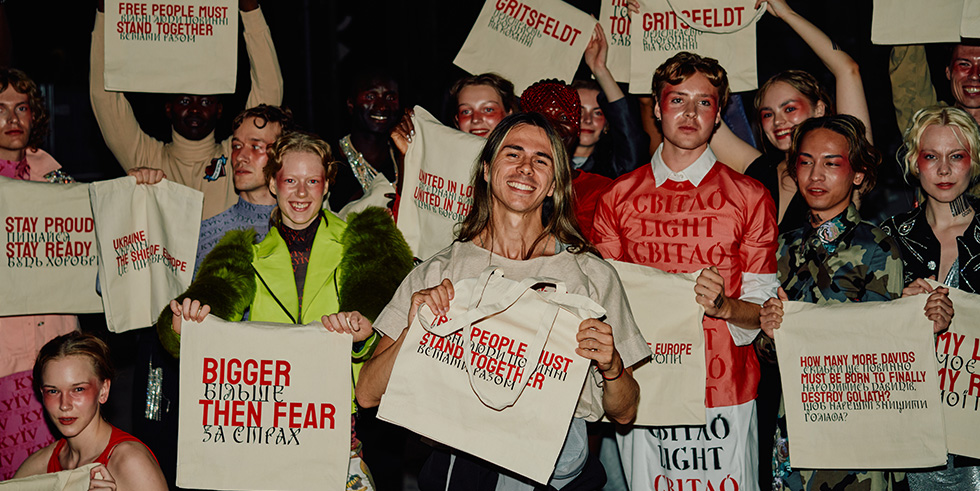 Dear Jean, thanks for taking the time. Can you introduce yourself and your label before we start.
Jean Gritsfeldt is the foundation of the brand. I convey a certain set of images and a lifestyle approach to every new collection. Jean, as the spokesperson of the brand, is the message of an uncontrolled party, freedom of choice, lightness and some playfulness. You can wear the clothes at any party and feel like a superstar. For modern people the concept of a party has different meanings and embodiments: for some, it is home gatherings, for others it is dancing until the morning. It doesn't matter that for everyone the party is a relaxation, rest, an opportunity to escape from ordinary everyday life and have a great time. All this embodies the brand of Jean Gritsfeldt. This is freedom of action and fun that is always with you. Main directions are: party clothes, everyday party wardrobe, celebration of life, when you feel like celebration, upbeat, never-ending party
In the beginning of the war, you moved out of your flat back to your mom to support her. How did you experience the last couple months since then?
My mother is a very powerful woman and I can say that she is the guardian of our great family here on earth she had to become so strong because she raised two boys me and my brother, in fact, I have a special closeness with her, I am infinitely grateful to her for all that she has invested in me she did and is doing to this day even more than she can, this is invaluable she still works in a polyclinic in ukraine as a doctor and helps many people who cannot help themselves what I want to wish her is simple female happiness and more daily reasons for joy with her family.
You made a huge statement with the closing show for the Berlin Fashion Week in March, not only for the fashion industry but politically. Have you had the time to reflect on everything that happened to you within the last months? What was positive, what was negative that you experienced so far?
The war in Ukraine was an experience for which no one was ready but apparently these are the rules of the game whether we want it or not but the world teaches us any kind of experience both positive and negative. I will believe and pray every day that we pass these tests in the best way with the least number of losses and deaths according to the divine plan
Since you could not come to Berlin in March, what did you associate with Berlin as a fashion metropole and Berlin Fashion Week of course?
I try to live by the principle of not expecting anything from places or people. I have always been interested in the Berlin fashion scene because this is the land of my ancestors in one way or another and I am extremely grateful to everyone who has helped and is helping to realize such powerful projects that change the course of history.
You´ve made your way to Berlin a couple of weeks ago. How did you do it ? Would you like to tell your story?
Here in Europe I act as a guide and a kind of bridge that helps to connect the culture of my country and the culture of European lands. I still need help and support from the community, as there has been a certain change of realities and paradigms and for the process to take place in the most environmentally friendly way for me and my psyche, I get to know a lot and come in dialogue with the local lifestyle and representatives of the local culture. Nothing has ended in Ukraine, therefore I urge everyone not to turn away from Ukrainian citizens who carry this light of love of goodness and unity around the world and especially in Germany.
From your perspective, in which ways did the last months change the fashion industry, especially the Ukrainian fashion industry?
At the moment, the entire Ukrainian industry has spread to the whole world because what will happen to it in the near future on the territory of Ukraine, as well as the entire cultural layer, only God knows.
How did it impact you as a designer in general and the way people and brands in the industry work together since then?
Ukrainian designers are very talented and hardworking, but now the period has come for all of us where we need to work even more intensively and better in order to continue talking through our creativity with people and in order to give them support, faith and love in a bright peaceful sky on our heads without war.
"Fashion is not a reflection of today, it always looks to the future for the years ahead." What are your wishes for the fashion industry in the future?
To think more about people and the planet because no one has yet canceled climate change.
Is there something you would like to change immediately if you could?
Now I am going through the transformational period of my life on a global level through pain, sweat, tears, blood and certain suffering, but with an unshakable faith in the sacred mission that I carry and the lessons that need to be learned, I would like not only myself but also everyone to wish that this universal transition becomes as small as possible, painless for humanity. We need to understand once and for all that we have nothing to share, that there is no difference between us. We all want to be happy alone and happiness is about simplicity and about mutual assistance, not only to others but also to those whom you practically don't know. I would like war to disappear on the planet lies violence injustice and substitution of concepts
Through Social media, you still manage to spread your positive energy with your community. What is inspiring/helping you to do so?
maybe I'm just an angel in the flesh) often people see one thing but you never know what is hidden behind the picture that people show therefore never judge and envy we never know who pays what fee for his life just be yourself. I love and accept myself the way I am. I celebrate this life every day. I am grateful to God that she is near and protects us.
You are Designer of the Year. Have you ever seen yourself coming this far when you started your path?
It is a great honor for me to become the designer of the year according to the version of Helsinki Fashion Week. Especially now, when every famous Ukrainian is an ambassador of freedom and independence in the world and whose mission is to draw attention to important topics. It is impossible to take a step forward without rethinking the past. It is a bridge to the future or, as I call it, the transformation of youth. — Ten years ago and today, my work is permeated with the same ideas: thoughts and dreams about love, struggle and freedom — in art, desires, self-expression. About finding yourself and faith in tomorrow.
What can we expect to see/hear from you in the future? Any plans?
Lots of plans. Every performance by Jean Gritsfeldt fulfills a certain mission. At this time I am working on a capsule collection of shopping bags with slogans in support of Ukraine, which has been under daily enemy attacks from Russia for more than 5 months. The charity capsule was created in collaboration with the Shpyg Foundation — the Fedor Shpyg Foundation, which has been supporting the development of culture, science and sports in Ukraine for more than 20 years. 50% of the funds from the sale of patriotic shoppers of the Jean Gritsfeldt brand will be donated to the Foundation for the restoration and construction of children's cultural and art institutions, which were destroyed throughout Ukraine during the russian terrorist attacks. In addition, the Shpyg Foundation will donate bags to its Foundation
donors. You can read more about the JEANGRITSFELDT.COM and Foundation's activities on the shpyg.foundation.
What would you recommend young aspiring designers for their path?
do not sign a deal with the devil even if it seems very attractive at first glance)
LOVE
JG