MYL BERLIN: Interview with designer Sebastian SK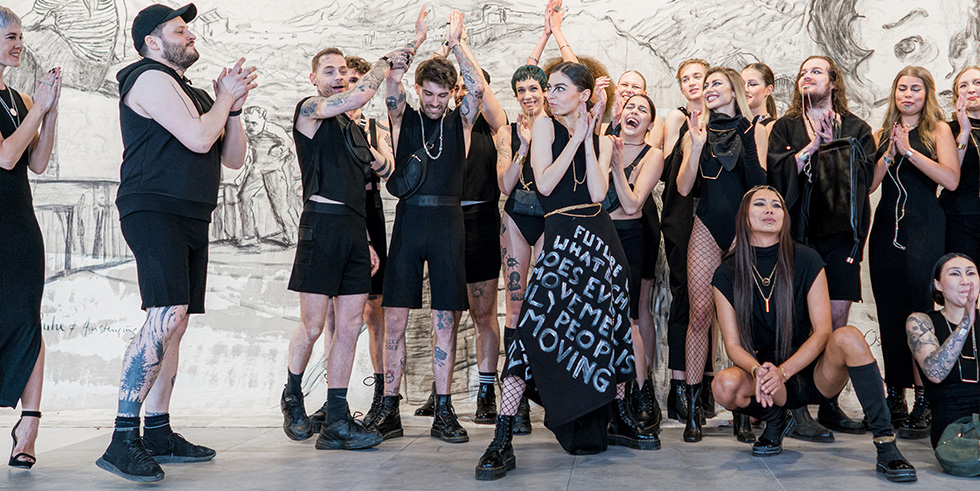 Designer Sebastian Pladwig about the message he wants to transport through his label and challenges young labels have to face these days.
Dear Sebastian, thank you for your time. Would you introduce yourself as a designer and your brand to us?
My name is Sebastian SK, and I am the designer and founder of "MYL BERLIN". The brand was founded on the conviction that fashion is more than just great design and craftsmanship, but that fashion can carry a message and has the power to evoke change.
MYL BERLIN stands for the belief in empowerment, showcasing the exhilarating force of diversity and wanting to reach people that might never have to think about topics such as prejudice as they are not affected by it. It's my mission to break stereotypes and show that some "rules" or "standards" set in the past can be replaced and are out of date. For me, "Empowerment" is something that transcends just gender; empowerment is about sexuality, ethnicity, expression, and so much more. We have to understand that conservative ideologies and stereotypes hinder so many people their entire life, and they miss the opportunity to be themselves.
What are your sources of inspiration and your design philosophy?
MYL BERLIN has a strong mission that often is ridiculed and has to prove itself over and over again - therefore, impeccable craftsmanship, precise materials, and polished designs are vital.
I draw my inspiration from seemingly opposing ideas - I enjoy taking elements that seem to have a fixed definition and designing them in something else - whether it's about pushing the idea of unisex clothing or transforming an item of suppression such as handcuffs into an empowering bracelet. It's all about challenging old definitions and showing how those can be reinterpreted.
My collections are inspired by the vortex of Berlin nightlife and the artist scene, where there is a beautiful harmony of beings that are united in their differences, where the stereotypes and definitions fade in the background, and the beauty of each individual can shine no matter their heritage, ethnicity, gender, sexuality, and anything that is imposed on them.
How did you experience this September´s Fashion Week? What was new? What impressed you?
This was the most significant fashion week we had until now; it was nerve wracking but also a breathtaking experience. The last years were difficult due to the pandemic and all the problems that came with it, and for us to do an entire collection at our own hosted event was a significant risk - but we couldn't be happier. The multifaceted audience, the press, and the final runway show have been more than we hoped - we were able to present a provocative collection, spread our message for equality, and receive incredibly positive feedback. We got millions of views for our runway video and reached more people than ever.
What challenges did you face when organising your own fashion show beforehand?
The first challenge was the confidence to pull it off; not only the financing part was essential for it but also getting the audience, models, and dancers together was a big task. And further, we dared to make a show at midnight, as it is part of the collection message, and we were worried that the audience might not want to come so late but we had people queue outside the venue, and it was a phenomenal feeling for us all to know that people can see our hard work and support us.
Why did you choose Berlin Fashion Week as the introduction event for your latest collection? How was the feedback given to you afterward?
Berlin is our home and where our heart is, so it was just natural to showcase it in Berlin. Of course, Berlin also has a vibrant and growing fashion scene, which we are very happy to be part of, and I personally think that Berlin has an open mind to our ideas. It allows us to showcase our vision, and other fashion weeks have contacted us after this event.
Where did you take inspiration for your new collection, "Reclamation," and could you describe its background?
Reclamation, to me, is a way to overcome injustice or struggles one has gone through. The name "MYL BERLIN" is a reclamation itself. "MYL" is the phonetics for the word "Müll" (translates to trash in English) - I chose this name because friends have been often insulted as "trash" just because they had a different lifestyle, looks, or in some way different from the norm. I knew it will be hard to stop people from calling people this way, but I thought maybe I can reclaim this word and turn it into something complementing - because "MYL is not Müll."
Did you use techniques and materials new to your previous collections? What is important for you when looking for new materials and designs?
We decided to use new materials such as different types of Mesh fabrics and layering and creating structures through seams so that the clothing would be very fitting but not reshape the body. I wanted to create a second skin so that people will feel comfortable and feel free to show their beautiful bodies. And when I say beautiful, I am not talking about a certain size, I am talking about individual bodies and whether curvy, tall, or slim - when watching the runway show, you will see how amazingly successful this was.
For me, the material is very important because each new design must look great but also feel great - it should make you feel empowered.
In terms of sustainability: What challenges did you experience within the last few months on availability, pricing, and delivery chains for materials?
Our approach to sustainability is not just to have a "badge". We believe that sustainability can be achieved in many different ways. For example, our leather bags are made of the material that usually is tossed by other brands, we take the "saddle leather layer" and work with it - although the material has many natural (no need for extra chemicals) features such as longevity and water repellant, it is harder to process and therefore many brands just throw it away.
Mainly we have had to adapt our production cycles, as the materials have a much longer delivery time, otherwise, we try our very best to keep the pricing stable. We want our collection to be accessible, and when buying our designs I can proudly say you will be amazed at what high-quality and beautiful designs you will receive.
What do you think are challenges designing genderless products? On the other hand and If so, do you have a preference when it comes to design for a specific gender?
Genderless design comes with the challenge that, for people, this concept is - to my surprise - provocative. The fact that you cannot choose between "Male and Female" on our website already causes so many issues, from SEO to wholesalers needing clarification on whom to promote the products to, etc. When I design products, I usually envision how they can look on many people, so for me, the design process is actually more fun. We had some issues in the beginning, creating fitting patterns, but we have figured that out perfectly now and it's one of the reasons for our success.
What makes Berlin a good place to start a fashion business?
I believe so, for me Berlin gives me the feedback and confidence that my designs and products can reach and touch people - if I was maybe in a more conservative city, I might have been too riddled with self-doubt to even have started "MYL BERLIN". It is very hard to have confidence in a competitive market such as fashion, and as a person, who sometimes has a little too much self-doubt, I don't know maybe I would have questioned myself too much and would not have found the strength to start "MYL BERLIN". So the answer is yes - Berlin is a good place.
Could you name one innovation within the last year that is really promising from your perspective? Did you notice any new products, innovations, approaches we should keep an eye on?
I love that customers are more open to recycled materials - in the past using the words "made of recycled materials" only evoked in some customers are positive feeling - most saw it as "used" or "not new" but this luckily has changed, and the extra work it sometimes takes to recycle materials pays off.
Will you participate in Berlin Fashion Week upcoming January? What can we expect from your label? What are your dreams and goals for the label and you personally as a designer?
Yes! We will of course attend the Berlin Fashion Week in 2023, and we are planning to make the show even bigger. The collection will be exciting and showcase an even more faceted diversity. My goal is to make the fashion week events a melting pot, where people that might not meet in everyday life, come together. When you come to our show it will not only be an amazing show with a message for equality, but you will also meet a beautifully diverse audience from all walks of life.
My goal is to create a brand that has such a strong message and reach that when you see someone wearing "MYL BERLIN" you know that this person is supporting the idea of equality, that there is something that connects you - and that when others make you doubt yourself whether you are "not good enough" or "or not normal" that you know you are not alone.
Thank you for this lovely interview, Sebastian!