Comeback: Kilian Kerner returns to Berlin Fashion Week after 3 years break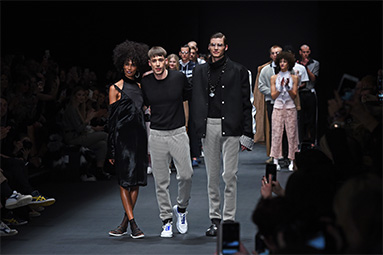 After a three-year break, Kilian Kerner returns to the catwalks at Berlin Fashion Week under the name KXXK.
The designer Kilian Kerner is considered the figurehead of the fashion metropolis Berlin. In 2008, he celebrated his premiere at the Berlin Fashion Week, being the regular starter of the event with 16 shows in a row. Now, after a three-year break, the exceptional design talent returns to the catwalks at Berlin Fashion Week under the name KXXK. KXXK, however, is not a fundamentally new label, Kerner says, "I rather consider it to be a cooperation with myself".
"Watch and buy" concept for urban looks
Kerner is going to present a ready-to-wear collection, which according to the designer was inspired by the buzzing big city life. His designs range from modern business looks to street style outfits and combine supposed opposites in a unique way. Creative, challenging, progressive and controversial – this is how Kilian Kerner describes his fashion. In the same way, the music of the band Rakede has strongly influenced the design of his latest collection. In total, the presentation will include about 30 looks for women and men. Some selected pieces will be exclusively available for purchase in Kerner's own online store right after the show. Kerner says, "I consider the concept of 'watch and buy' to be very modern and up-to-date in these fast-moving times."
Kilian Kerner is back "where many things started"
The show is accompanied by Kerner's long-standing partners such as Staatlich Fachingen and Samsonite. NYX Professional Makeup is the new partner for make-up and styling. The show is funded by the Senate Department for Economics, Energy and Public Enterprises and Project Future. Kerner is very enthusiastic of "going back where many things started for me" – to the Berlin Fashion Week."
Kilian Kerner, who had actually studied acting, came in touch with fashion design by pure chance. Today, 39 year-old Kerner is an internationally acclaimed high-fashion designer. Celebrities like Kylie Minogue, Karolina Kurkova, Dominic Thiem or Veronica Ferres have worn his pieces in public. He has further designed and worked with brands like Nike, Kiehls, Sioux, Smart & Star Trek, BMW Mini, Grundig, Swarowski and was ambassador of the "Bathroom Poetry" campaign by Villeroy and Boch.
For more information visit:
www.kilian-kerner.de