Future Fashion: Smart Wearable – Facts & Figures

How does the Smart Wearables industry develop? All facts at a glance.
Berlin x Wearables!
More than 50 companies in Berlin are already developing applications for smart wearables, including ElektroCouture, Newsenselab, Trafopop, Tune Innovations, Kobakant and Moon Berlin as well as rising stars VOJD Studios and Stil. By organising competitions and offering prize money (Smart wearables competition/ CreativeTechnology competition in 2015) and an accelerator programme on smart wearables and smart textiles, the Senate Department for Economics, Energy and Enterprises, contributes to increasing the potential of smart wearables applications in Berlin.
Want to learn more about wearables and smart textiles?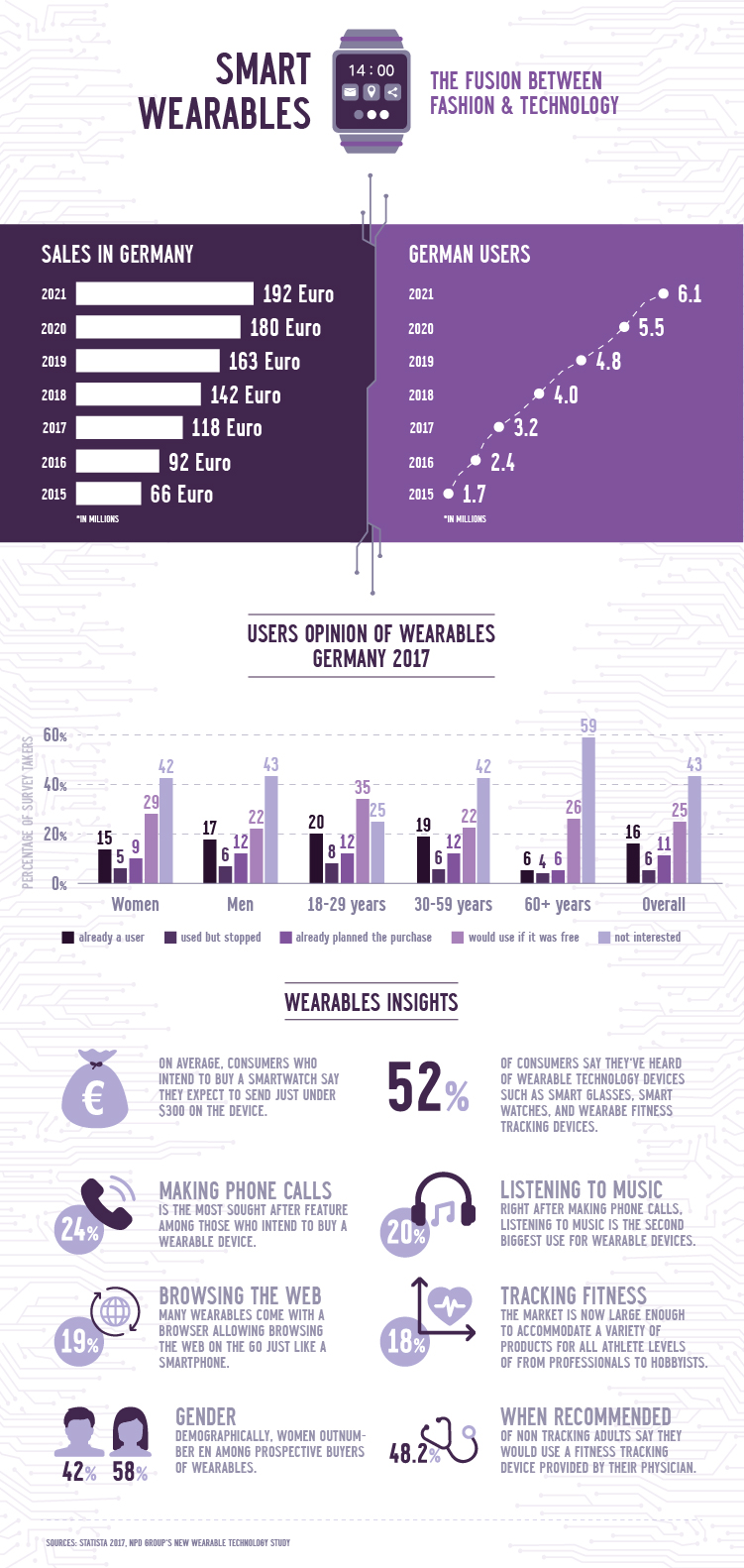 Trade fairs in Berlin relating to the wearables industry:
Incubators/ competitions/ conferences
Design Research Lab/ Connected Textiles
Telekom Hubraum
Fashion Fusion competition by Telekom AG
Accelerator programme of the Senate Department for Economics, Energy and Public Enterprises/ Atomleap GmbH
FashionTech Conference, Berlin
Conhit Messe, Berlin
Heartbeat Labs GmbH
Research institutions
Fraunhofer IZM, Berlin/ Abt. Smart Sensor Systems
Fraunhofer IAP, Potsdam/ Synthetics electronics
Technische Universität Berlin, Faculty for Electrical Engineering and Computer Science
IRIS Adlershof
Networks
Innovation Network for Advanced Materials (INAM)
Professional Wearables Network (ProWear) at HTW
WearIT Hub
GEOkomm/ Registered association for the geoinformatics industry Berlin/Brandenburg e.V.