Yooneeque develops individual garments from training data by using artificial intelligence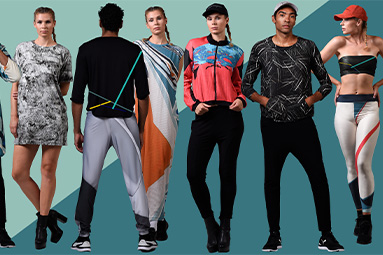 The label yooneeque uses artificial intelligence to develop individual garments from training data.
Many sports enthusiasts track their training data, collecting information about heart rate, number of steps, calorie consumption and many more. These data make up a highly individual pool of data. These data pools inspired the designer and founder Anna Franziska Michel, who came up with the idea in 2015 to turn the enormous amounts of data that are collected within the so called 'Quantified Self Movement' into garment designs. Since that time, Michel has carried out research on the development of an algorithm to turn training data into fashion designs. In her research, she was supported by Prof. Dr. Ingo Claßen, Professor for Business Intelligence at the faculty of Business Informatics at the University of Applied Sciences Berlin (HTW). Michel eventually founded the label yooneeque, which was awarded the Berlin Startup Grant by the federal state of Berlin, ESF and HTW for its innovative idea.
#beyooneeque – Individuality through data handling
What lies behind the idea of yooneeque? The team led by Anna Franziska Michel develops unique high-quality sportswear according to the motto #beyooneeque. The individual training data of the customers are transformed into patterns, colours and styles by using artificial intelligence (AI). Fed into the computer, the software, which is based on neural networks (i.e. artificial intelligence), creates highly individual prints. "The company and the customer benefit in terms of time and cost efficiency. With regard to individual designs, the company is able to offer a holistic design within a short time by using AI and taking the customer's personal fitness data into account. Moreover, each item can tell an individual story. This enables an individual fashion items for every customer segment, and not only for high-income customers. Thus, we take an important step towards fighting against fast fashion. The emotions that a customer connects to an item promote a longer product life and a closer relationship with the item, marking an important milestone for slow fashion", says Michel.
Focus on B2B
This way, yooneeque combines fashion design with state-of-the-art technology. Fashion-conscious athletes can upload their data on the yooneeque website and get a design for their very individual sports garment. For example, the data from the step rate are transformed into line patterns, jumps are represented by waves, or for ball players the number of touches on the ball is turned into graphic patterns. At the same time, yooneeque attaches great importance to data protection, which is why they have appointed their own data protection officer. Michel says, "yooneeque focuses on a B2B business model. We provide the design service and each partner business uses individual procedures for fulfilling the orders. For our club or team sport customers, we use the sublimation or transfer printing method. At our live events, we also work with transfer printing. At such events, the customers can have their individual designs printed on either their own favourite shirts or shirts provided by us. The data used are generated by yooneeque live on the spot from the customer's personal training data." Meanwhile, the current product range that sports enthusiasts can choose their favourite item from is huge, reaching from cropped tops, to jumpsuits, shorts and sports bras. The master collection was created by using the data of the staff members of yooneeque. The innovative start-up business provides also a collection with the founder's personal training data.
More information:
https://www.yooneeque.berlin