Telekom Fashion Fusion – these are the visionary ideas 2018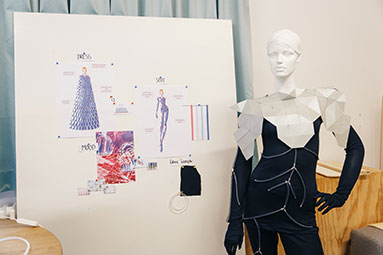 Clothes, which communicate through LEDs, control apps or monitor the heart rate make up just a small selection of the projects that were submitted for this year's Telekom Fashion Fusion.
For the third time, innovative ideas will be awarded a Fashion Fusion Award in July. As part of the Berlin Fashion Week, the winning team of the Telekom-Fashion-Fusion-Programme will be honoured. A jury of experts from the industry and fashion scene has chosen the nine finalists out of numerous applications, who will continue to develop their concepts and prototypes with support by Deutsche Telekom. The categories for the award are Connected Devices & Smart Accessoires, Haute Couture & Show Fashion and Business Solutions & Smart Services. The set goal for this year is to develop innovative ideas and to get them market ready. Thus, the participants are supported professionally by partners, coaches, and trainers. During the fashion week in July 2018, the prototypes will be presented as part of the Fashion Fusion Award Ceremony and a winner team will be selected.
Introducing the finalists and their projects
Here is an overview with all projetcts and teams that were able to impress the jury:
KEYPOD
In the category Business Solutions & Smart Devices, the Israeli team called Keypod takes part. Sharon Gruneberg, Roman Alperovich and Einat Israel equip clothing with intelligent communication features, which for example enable the user to exchange voice messages or check tasks without taking the phone out of the pocket. This is possible due to electronic components, which are easily attached or integrated into the clothing. Keypod can also be integrated into sportswear and control music streaming apps or fitness training programmes.
ISABELLE
Visually impaired and blind people are supposed to be supported by the Hamburg-based Maria Przybyslki's idea. The navigation system "Isabelle" which can be integrated into clothing and connects to an app, allows the user to become more mobile and independent. The into the Isabelle-system integrated camera allows friends or family members to help during the navigating process.
NAVIGATION BRACELET
Yannik Wendt developed a navigation tool, too: a bracelet, which helps visually impaired people to orient themselves and find correct directions. Especially in unfamiliar locations, the user can be guided through specific vibrations on the wrists, which translate to "straight ahead", "left", "right" or "stop". The bracelet can be connected to the smartphone via Bluetooth and receives according signals through it. A benefit of this navigation system is, that the acoustical senses aren't overlapping since they're important to visually impaired people in order to avoid hazards in public.
NETWORK NERVES
For the category Haute Couture & Show Fashion, Cythia Becker and Chiara Baier from Hamburg are participating. Their project "Network Nerves" offers an additional kind of expression as part of a stage show. Fluorescent substances are analogously to the user's pulse rate pumped through flexible hoses, which are attached to a bodysuit. This creates an additional communication level between the stage performer and the audience.
PROJECT LOVE
Katherine Scott, Petra Beins und Chinedu Ogueri from Belgium want to help people, whose body type doesn't fit the measurement "standards", to find fashionable clothing. Many people who are overweight or underweight, or have just a different type of body, struggle to find fitting clothes. Project Love allows individual scanning of bodies and thus, the custom-fit manufacturing for the specific body type and size. The measurements are transferred to a 3D-printer. That's how special demands can be considered.
SMART ORTHOSIS
For the category Connected Devices & Smart Wearables, Hamburg-based Lisa Feuchtner and Viktoria Hase present a top, which can prevent back issues. The smart top is equipped with heating patches and vibration elements. Thus, the posture of the wearer can easily be corrected and severe pain can be reduced. The Smart Orthosis can be connected to the smartphone via Bluetooth and is controlled through an app.
INTERKNITTING
Hungarian Zsófi Lévai and Sarolta Setet, make the nonverbal interpersonal communication visible with their project Interknitting. The knitted dress contains 5 different types of yarn, which react to sound, movement, and touch. Plus, the Interknitting dressed are able to communicate with each other. The collection is produced with natural and sustainable materials, such as merino and cashmere and is also equipped with sensors and LEDs.
INFIMÉ
Inbar Carmel, Nitzan Carmel and Michael Litvin from Israel are participating with their project Infimé. Their goal is to enable the opportunity to try on clothes when shopping online in the future. This works through a 3D-technology. If the customer enters their individual measurements, a 3D-presentation of the clothing piece worn by a virtual body with such measurements, plus a recommendation of the fitting clothing size is shown. Thanks to this technology, the online-shop is becoming more comfortable and the number of potential exchanges can be lowered.
RADICE
Munich-based Nele Köstler and Konas Diezun project Radice focuses on helping their users get healthy sleep. It's a smart sleeping mask with innovative functions. The mask is controlled through an app and contains a sleep-tracking-option, plus integrated light therapy sensors.
Furter information:
https://fashionfusion.telekom.com/