"We are just in the beginning of a big development!"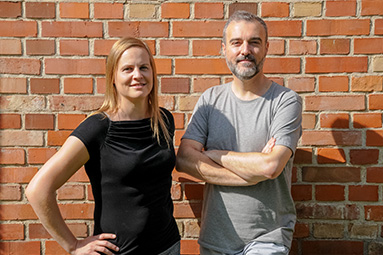 Alicia Sophia Hinon and Massimiliano Bariola spoke to us about their smart glove CROVE.
Within the Smart Wearables department, there is a striking amount of products, that are being developed for the human hand. Smart gloves are an important trend on the fashion tech market. The two Berlin-based founders Alicia Sophia Hinon and Massimiliano Bariola have developed a smart glove, too. It's called CROVE and is supposed to move humans and their needs back into the center of technological wearables. In 2019, Alicia and Massimiliano will present the first prototype to the public. We have discussed their idea, the functions, and goals with them.
What kind of scientific background do you have? Where does the interest in human anatomy but also in the possibilities of technology on the other hand come from?
Alicia Sophia: Thanks for having us! Let me answer by changing the perspective: How can anyone not have an interest in making things easier in this more and more complex world? And this one is actually very obvious: The human hand is one of the most versatile inventions in nature. But when it comes to technology we degrade it to simple tapping of the index finger. My background is communication and I am constantly stunned by all the creative ways humans developed to communicate with each other: languages, signs, music, facial expressions, body language, even mathematics. We see, hear, feel and sense communication - in multiple, direct and abstract layers. But technology so far understands you only when you press a button on a screen...
Massimiliano: I am a computer science engineer with a background in Research & Development, and many years of studying and learning on how we, as humans, operate and function on all of our dimensions. I'm convinced that technology ultimately needs to serve humans and their environment, so instead of piling up technology on humans and let them figure it out or be moulded by it. I am more interested in tech that is neither a crutch nor antagonistic, but really can be helpful for the nowadays man, in the technological present at hand and enable a future where technology is synergic to humans.
When and how did the idea for Crove arise?
Massimiliano: It was an epiphany after a near-accident while on public transportation. Thinking about why it happened and if anything could be done about it, it hit me, and I literally woke up in the middle of the night starting to develop the first prototype. The longer I was working on it the more it became obvious how many different use cases in various sectors could benefit from it.
Which functions has Crove? Who needs it and for what purpose exactly?
Massimiliano: If you ever had the thought that of your day to day interactions with technology could be made more natural and intuitive, odds are you will find CROVE useful to streamline and simplify your everyday life!
Alicia Sophia: There are two answers to that: In the short term CROVE is supposed to make B2B processes faster, easier and more precise and so save prospective commercial partners a lot of money. With its technology CROVE will activate and control devices and production chains, run complex routines, document, measure, direct - with no need for visual confirmation and with keeping the hands free to actually perform the work. The vision on the other hand, is like what Massi said: CROVE will let anyone intuitively (and in a future milestone with the help of AI) interact with surrounding IoT technology and will even let the power switch on your coffee machine become redundant.
What partners do you have from an economy and a science side? How is the project funded?
Massimiliano: We won the Startup Stipendium at TU Berlin which allows us to focus on bringing the prototype to a stage where it will be usable by prospective first clients. Of course, we are also lining up interesting investment partners, but we are not into just raising money. We are primarily interested in finding interested client partners that will have the chance to participate in the development and prioritization of CROVE's first features.
Alicia Sophia: The TU Berlin and our mentors there help us with access to latest research and leading technology. We couldn't ask for a better environment. At the very minute we are also aiming for an additional cooperation with a leading German research institute residing here in Berlin and we are in close connection to the "Kompetenzzentrum Texil vernetzt" and its partners with amazing expertise in textile manufacturing and sensors. We also get a lot of support from Berlin, "our" startup city and it's designated right hand "Berlin Partner" and we are in talks with first potential clients to finetune CROVE according to their needs.
What is special about Crove? How does stand out from other smart gloves?
Alicia Sophia: First I have to emphasize, that I find the emerging landscape of FashionTech here in Europe simply amazing and we are proud to be a part of it! We are just in the beginning of a big development! What we see so far is that most competitors still follow the "form follows function" principle. As a result, their products often leave attractive appearance to be desired or the production comes at high costs. Our focus is clearly on human-centric design, a fashion piece that even Lady Gaga would like to wear to run her show, and a strong aim at affordability.
Massimiliano: The hand seems to be everyone's favourite body part to build upon nowadays and indeed some of the latest proposals we saw are quite exciting from a technological point of view. We choose to design from an ergonomics perspective, selecting the right amount of technology needed to empower CROVE users with a wide and configurable range of functionalities. A lot of thought has gone into hitting the sweet spot between flexibility and simplicity.
At what point in the development process are you currently? How far is the prototype progressed by now?
Massimiliano: We have a works-like prototype that is nearly complete of the features we consider important to ship with on the first version.
Alicia Sophia: I think we will be even able to show our eye candy in the first half of next year - so watch out on one of the relevant shows or fairs here in Berlin.
What causes most issues within the development? Is it hardware or the software related issues?
Massimiliano: At the moment, it's refining the "look and feel" and the final ergonomics of the MVP.
Alicia Sophia: Maybe it's also worth mentioning that the public becomes more and more aware of technology and the data it creates and processes. So we also spend a reasonable amount of time designing a secure and maintainable infrastructure, to overcome the design flaws of early IoT devices.
How would you define the goal? Where should Crove lead to?
Alicia Sophia: It's not so much a final goal but more of an ongoing vision. Technology needs to remain accessible for humans, otherwise it will cause fear and imbalance. What strikes me is that we love to see Iron Man or Harry Potter on TV screens performing magic simply by raising their hands. In daily life instead, we avoid technology as much as we can due to complicated and limited interface design. We want to give everyone their personal, precise and intuitive access.
Massimiliano: As Alicia said, CROVE is only one of the pieces of the mosaic of a larger vision, which is to create a more human-relatable interaction with technology and restoring Man's central role in such relationship. They say Digital is eating the world, I'd add that the average person feels somewhat helpless or unaware of what is their digital footprint and how it is used to shape their future, think about the very low participative level of smart cities and how much the interaction with the digital is made through forced gateways in the form of screens. We plan to change that, one product at a time of which CROVE is only the first.
More information:
http://getcrove.com
http://www.twitter.com/getcrove