Smart Textiles: Developing Research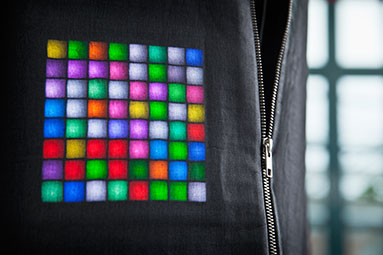 In Berlin, there are several institutions and projects which follow up on textile research.
Sensors and conductive yarn at Fraunhofer IZM
In the lobby of Fraunhofer Institute for Reliability and Microintegration IZM in Berlin a mid-length grey coat is being exhibited. Approximately at the waist, on the right pocket, one can notice flashing small luminous coloured squares. This garment, which falls within the category "smart textiles", was developed here.
Textile Display ©Fraunhofer IZM, Photo Volker Mai
In the sewing room of the institute, a large machine weaves insulated metal wires through textile fabric. The conductive yarn is then able to communicate with external applications. Sensors containing elastic and textile substrates are embedded in fabrics and can thus be easily used in clothing. These sensors, called Texteer and Sinetra, are able to measure body-related data such as body temperature or blood pressure. Some of the interwoven sensors are even machine washable.
The Berlin institution has undertaken textile research since the 1990s. The materials that are developed here are designed to communicate, provide protective functions and take over medical measuring tasks and hence can be used in everyday life.
In order to shape a sustainable future in this field and to promote young business ideas and startups working in the field of sensor technology and developing new sustainable ideas, Fraunhofer Institute has launched Start-A-Factory. This "business incubator of the future" is expected to revolutionise the production of materials and accelerate textile innovations, among other things.
Smart-textile-research at Weißensee Academy of Art
Another Berlin institute dedicated to research into smart textiles is Weißensee Academy of Art. The project "Textile Prototyping Lab" was launched in research department futureTEX. The focus here is on bringing together textile designers and textile engineers and to encourage an interdisciplinary exchange early on in the development of smart textiles. Another focus of this project is placed on experimental material research with the expectation of finding completely new way of using textiles.
Project proto:n at HTW (University of Applied Sciences)
Furthermore, the project "proto:n" launched by the Berlin University of Applied Sciences (HTW) under the motto "University meets SME" seeks to explore smart wearables and smart textiles in cooperation with small and medium-sized enterprises. Within the framework of this project, staff from local companies and representatives from research institutions are invited to develop prototypes of high-tech fabrics and other hardware in so-called innovation workshops. This is where for example technological patterns are designed from functional fashion and active sportswear or garments equipped with microtechnology.
Design Research Lab of University of the Arts
The Berlin Design Research Lab of the Uniersity of the Arts researches into design. More than 20 scientists are working on the future of communication design and exploring the technological possibilities in the course of various specialized projects. One emphasis is on the field of "Connected Textiles", where a specific language is being developed to enable interaction between textiles and the outside world. Dr. Berit Greinke is a member of this department. With her expertise in the field of textile and surface design, she wants to use scientific methods and processes to create textile works of art that communicate functionally. The aim of the research institute is to make users more independent and society more inclusive through wearables. This can be achieved by creating a common technological language by means of high-tech garments.
Research projects as path leading guides
Research on smart wearables is more advanced than many of us are aware of. Research in this field focuses on ideas that make garments more practical, more communicative, more functional and even more protective. Much more impressive, however, are the ideas that are still conceivable in the field of wearables.
Research institutes and scientific projects on wearable technologies and smart textiles play a vital and leading role when it comes to exploring the possibilities of smart textiles in an adequate way. Scientists can explore important issues and develop processes aimed at designing smart garments that may eventually take over important and practical everyday tasks. The projects presented here show that the future of smart textiles is promising.
Further information
https://www.izm.fraunhofer.de/en.html
https://www.izm.fraunhofer.de/en/institut/wege_der_zusammenarbeit/start-a-factory.html
http://www.kh-berlin.de/en.html
http://www.kh-berlin.de/en/academy/research/futuretex.html
https://www.htw-berlin.de/forschung/online-forschungskatalog/projekte/projekt/?eid=2312
http://www.design-research-lab.org/