"I'm still inventing my own favorite wearable." - An interview with Katharina Bredies

PhD in Design Studies phil. Katharina Bredies conducts research at the Berlin University of the Arts and is part of the Design Research Lab. In the interview she answered, among other things, what in her opinion is the innovative power of Berlin in the field of fashion design, what fascinates her personally about FashionTech and what development she would like to have for the future.
PhD in Design Studies phil. Katharina Bredies conducts research at the Berlin University of the Arts and is part of the Design Research Lab. In the interview she answered, among other things, what in her opinion is the innovative power of Berlin in the field of fashion design, what fascinates her personally about FashionTech and what development she would like to have for the future.
Could you briefly describe how you came to design research? And what are you currently working on?
I studied at the University of Arts in Bremen when Wolfgang Jonas was a professor there. He introduced me to design as a field of research and, after graduating, introduced Gesche Joost, who was a design researcher at the Telekom Innovation Laboratories in Berlin at that time. In turn, it enabled me to do my PhD in design science. Currently, I lead several projects in the field of electronic textiles, including wearables for ambiente notifications, product and service design of a smart jacket for runners and electrostatic energy through textiles. I am always interested in the design-theoretical and -methodic aspect, eg. B. To what extent a smart garment finds its use only through its use.
How important is Berlin for your work?
In Berlin, it is fortunate that many different actors in the field of smart fashion are on site. First there is the University of the Arts, where the Design Research Lab is based and where product and fashion designers are trained. In addition, there are the other Berlin universities with technical and social science subjects, with whom we work a lot, and research institutes with highly specialized equipment. But there is also a very lively scene of independent designers, artists and Makern that is well networked.
In your opinion, how has the Berlin fashion location changed in recent years, with regard to digitization, fashion technology and innovation?
FashionTech has become more present to fashion designers than a few years ago, and there is growing interest in using electronic textiles in fashion. The FashionTech community is growing and becoming increasingly visible. This is promoted and supported by politics, but even large companies have now discovered FashionTech as a subject with great potential.
What fascinates you personally about FashionTech and Smart Wearables?
With e-Textiles and Wearables digital technology is getting a new shape with a new material, namely fabric. The impact on how digital devices look and operate could be as significant as the introduction of graphical user interfaces for computers, or the development of mobile phones into portable minicomputers. This concerns the production, which can now also use traditional textile production processes. But it also changes the way it is handled, because it's a soft interacting material - and therefore different from the plastic and glass surfaces that we otherwise interact with. We can now control digital devices by kinking, wrinkling and folding. In addition, fashion and textile design offer a millennia-old, highly differentiated design language that does not yet exist for digital devices.
Would you say that Berlin has something ahead of other FashionTech cities, and if so, what and why?
I do not want to compare that directly. In Berlin there is a great community and a very good infrastructure. And right now the subject of fashion tech gets a lot of positive attention, which is also helpful. Since Smart Textiles is still a niche that requires the interaction of very different professions, it is very pleasant in Berlin that there is a high level of willingness to work together among the players.
How digital and smart is your personal life? Is there a smart wearable that you can no longer think away from your everyday life?
I'm still inventing my personal favorite wearable. First, it's quite a new development that there is such a large and readily available range of DIY wearable components and materials. On the other hand, many available applications are currently focused on sports and health. Having a good wearable is both good software and good hardware, and the things that attract me are not yet available.
You invented a blazer that can trigger an alarm in the event of a medical emergency. Could you describe more detailed what this is all about and how you came up with this idea?
The Blazer is a portable alarm button, similar to the buttons worn by some elderly people to call for help in an emergency. The jacket does not look its function, it just looks like a classic women's blazer. However, the pocket flaps are textile switches, and the jacket is also connected to a mobile phone via Bluetooth. Our aim was to show that wearables and textile interfaces can be integrated much better and more user-friendly in everyday life than other digital devices, even better than other wearables. We do not lose our sense of style just because we're getting older.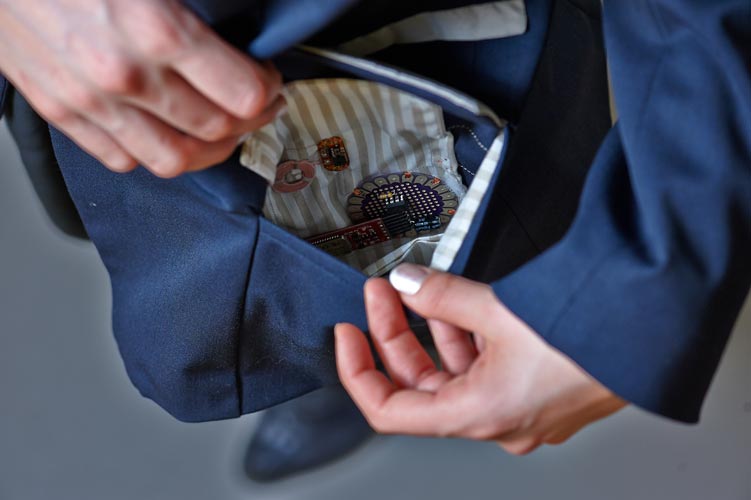 Picture: ©Matthias Steffen
In your doctoral thesis, you will deal, among other things, with the innovative approach of considering the use of textiles as a design or design component. What inspired you? How did this topic come about?
In design, a design approach has gained the upper hand in the past, which focuses on user-centered and problem-oriented work. This methodology is very meaningful and successful when you design with existing technology. However, new technologies are also about first identifying what they might be especially useful for, without having to commit themselves to a specific problem area. I was interested to know what a design process might look like by exploiting the possibilities of new technology. That's why I've been dealing with the usability of things. People are very good at being very creative in using things and so they use them often diffenrently as they are meant to be used.
Textile is a very excellent material because it is so familiar to us. We are surrounded by textiles from the very beginning and know everything intuitively. At the same time, it is still a completely new material for digital applications. There are no conventions yet on what a textile digital interface looks like and what you do with it. Fabricating digital interfaces is a bit like reinventing the computer - in soft.
What kind of potential problems do you see in the ongoing digitization of fashion design?
FashionTech brings together the electronics and fashion industries, and the assignment of smart clothing is still unclear. Once wearables are manufactured on an industrial scale, we need to seriously consider what lifespan they have and how to dispose of them responsibly. Ecological sustainability is already a huge challenge for the fashion industry. The issue is much bigger by electronic components in clothing. Another aspect lies in the nature of fashion and concerns its rapid change and its transience. This is already affecting digital devices today. If FashionTech were to lead to an even faster obsolescence of digital technology, that would be a big problem.
Where is the greatest potential of smart wearables? In your opinion, what are the most forward-looking developments on the market?
In any case, I would like to see two developments: First, that the electronics melt even more strongly with the textile. For practical reasons, we are still working a lot with conventional components, everything else is still basic research. FashionTech should become as subtle and natural as any other material you work with in fashion. On the other hand, the use of substance as an interaction material should also be given more prominence. We've had glowing clothes and tops for so long, simply because they look so beautiful on photos. Now we also have clothes that are packed with vital signs sensors. Both have electronic parts fixed to the fabric, but nothing changes in our handling of the garment. That's why I would like to see more wearables that prove themselves in everyday life - and in a differnet way as the Vitalshirt in sports.