Berlin start-up ThePowerHouse designs an Instagram dress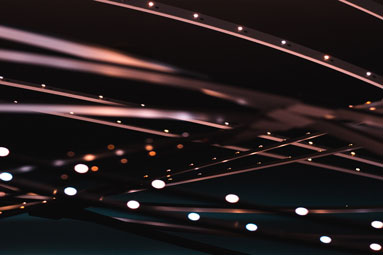 The Berlin start-up ThePowerHouse has designed an interactive Instagram dress that was presented for the first time at the German Computer Games Awards.
Dorothee Bär, Minister of State for Digitisation, presented the innovation by the Berlin start-up ThePowerHouse for the first time at the 2018 German Computer Games Awards. This is because it suited the theme of the event, which was centred around digital trends, that the fashion tech company had designed a dress connected to Instagram.
Innovative designer piece
Thanks to built-in LEDs that are connected to a computer, the dress changes colour, for example when it gets a like on the online platform. The digital dress also reacts to its own hashtags. This creates an interactive experience when wearing the dress, the technological design of which is second to none. The LEDs have been integrated into the dress such that they do not negatively affect the appearance or comfort of the garment. On the contrary: the Instagram dress is a high-quality designer piece with an innovative high-tech feature.
ThePowerHouse: fashion tech made in Berlin
The Berlin start-up ThePowerHouse is a fashion tech agency that develops and designs innovative projects. An interdisciplinary team of creative technicians and fashion designers works on wearables and fashion tech pieces that are produced in Bikini Berlin. ThePowerHouse website reads "We love pushing the boundaries of the status quo and designing for the future". The goal of founder and CEO Lisa Lang was always for her designs to push boundaries and be future-oriented. This was recognised when Lang was named in the renowned Forbes Magazine's Autumn 2018 list of "50 Top Women in Tech in Europe". Forbes praised, for example, Lang's collaborations with the European Union and the Federal Republic of Germany, for example her role as a mentor for the Fashion Council Germany.
The Instagram dress is one of many projects by ThePowerHouse. For example, the technicians and designers presented the project "You create we knit" at Fashion Week Berlin in 2018. In this project, visitors could create their own scarves and have them made on demand. The start-up has also already developed vegan leather for example.
More information:
https://thepowerhouse.group/