In June, the Wear It Festival will take place for the fourth time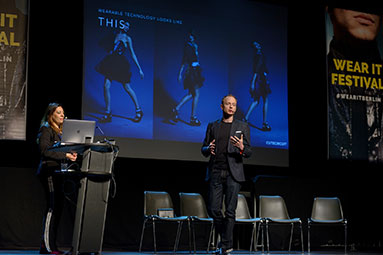 In the Berlin Palais Kulturbrauerei, during Wear It Festival (19th-20th June) it's all about wearable technology and the latest developments in the area of smart textiles.
For the fourth time on June 19, 2018, until June 20, 2018, the Wear It festival will take place. Since the beginning in 2014, the two-day conference about digital clothing has become an annual Berlin-based Institution, which attracts an international audience. In the Palais of the Kulturbrauerei in Berlin, developers, inventors, designers, artists, investors, and enthusiasts meet up to network, exchange their views and present prototypes.
Wear It Festival, Photo: ©Galya Feierman
Founder Thomas Gnahm is involved since the beginning
Experts from the whole world, among them 30 speakers, 40 exhibitors, plus 500 visitors, are expected for the conference in June. In 2014, after the first successful meeting of the Wear It community, the founder and organiser Thomas Gnahm, noticed that "[…] such an international platform for Wearables is urgently needed; where participants can exchange views, push joint progress further and discuss, what innovative clothing could look like.". After four years, he still supports young designers and creative to get a suitable opportunity to show their potential and introduce new products and develop such.
Learn, exchange, network
Two days filled with inspiration and Learnings are expecting their audience. Here you can learn from established companies, and during discussions and presentations, plus roundtable session about the topics wearables technologies, smart textiles and fashion tech, enthusiasts can expand their knowledge. The Wear It conference offers more than enough opportunities to get in touch with potential clients, investors, and media representatives.
Content and highlights
This year, the content-related focus is on the categories work clothing and industry applications, lifestyle and fashion, sports, healthcare and medical technology, smart materials and e-textiles, IoT, application development and innovative materials.
Selected highlights of this years' conference are, for example, Jan Hesse of Fraunhofer FEP, who will present the potential and opportunities of flexible OLEDs, and Laura Kriefman, founder of Guerilla Dance Project, who will present an abstract of the show Kicking the Mic, which talks about an acoustic LED-dress.
Contact:
Wear It Office
Oranienstrasse 10
10997 Berlin, Germany
+49 176 23947268
hi@wearit-berlin.com
Further information
Website
https://www.wearit-berlin.com/
Tickets
https://www.wearit-berlin.com/tickets/
Facebook
https://www.facebook.com/wearitberlin
Twitter
https://twitter.com/wearitberlin
Instagram
https://www.instagram.com/wearitberlin/
Flickr
https://www.flickr.com/groups/2793948@N24/pool/
YouTube
https://www.youtube.com/channel/UCg1vFlOczZm2T32HV2qpO2A