Skarabeos - theft-proof backpack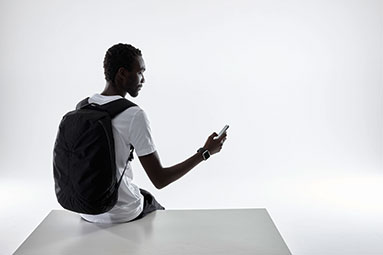 The future of fashion lies in "smart" clothing for everyday use. Skarabeos demonstrates and tries to enter the market.
The future of fashion lies in "smart" clothing. This refers to textiles whose functions go further than to warm and look good. Thanks to innovative technologies, such as flexible electronics, the doors are open to creativity. Three creatives who are taking advantage of the new opportunities are the technology specialists Christian Dils and Manuel Seckel, who work for the Fraunhofer Institute in Berlin with the the Linz fashion designer Wolfgang Langeder.
Together they founded the fashion label Skarabeos in 2016 and turned bags and backpacks into smart wearables. The Skarabeos products aim to increase the sense of security in everyday life. They are connected to an app and protected by an alarm system against theft and loss.
Alarm via the app
The idea is an alarm-protected bag that is connected via an app, making it a portable assistant that protects the contents of the bag and the bag itself. Even before a thief can take hold of the bag or backpack, an alarm triggers and sends it to the smartphone or smart watch. Similarly, the wearable responds when the owner moves away from it, when accidentally leave the backpack and forget/lose it. The bag can be opened and closed manually or via the app.
© Skarabeos 2017; picture Elisabeth Grebe, Linz
Stretchable Circuits
Technical basis for the idea of ​​Skarabeos backpack form the stretchy electronic elements that can be integrated into textiles. The two Skarabeos members Christian Dils and Manuel Seckel have been working on this topic for a long time. Already in 2009, they launched the company called "Stretchable Circuits", which is a spin-off from the Fraunhofer Institute and the TU Berlin and deals with the integration of electronic functions in textiles.
Launch of the Crowdfunding Campaign
The alarm-secured backpack, which was last presented at TechCrunch Disrupt Berlin in December 2017, is currently still in beta. In March / April 2018 Skarabeos launches a crowdfunding campaign to enter with the backpack the market in 2018.
More information about Skarabeos: https://www.skarabeos.com/