Berlin Contemporary: Interview with BOBKOVA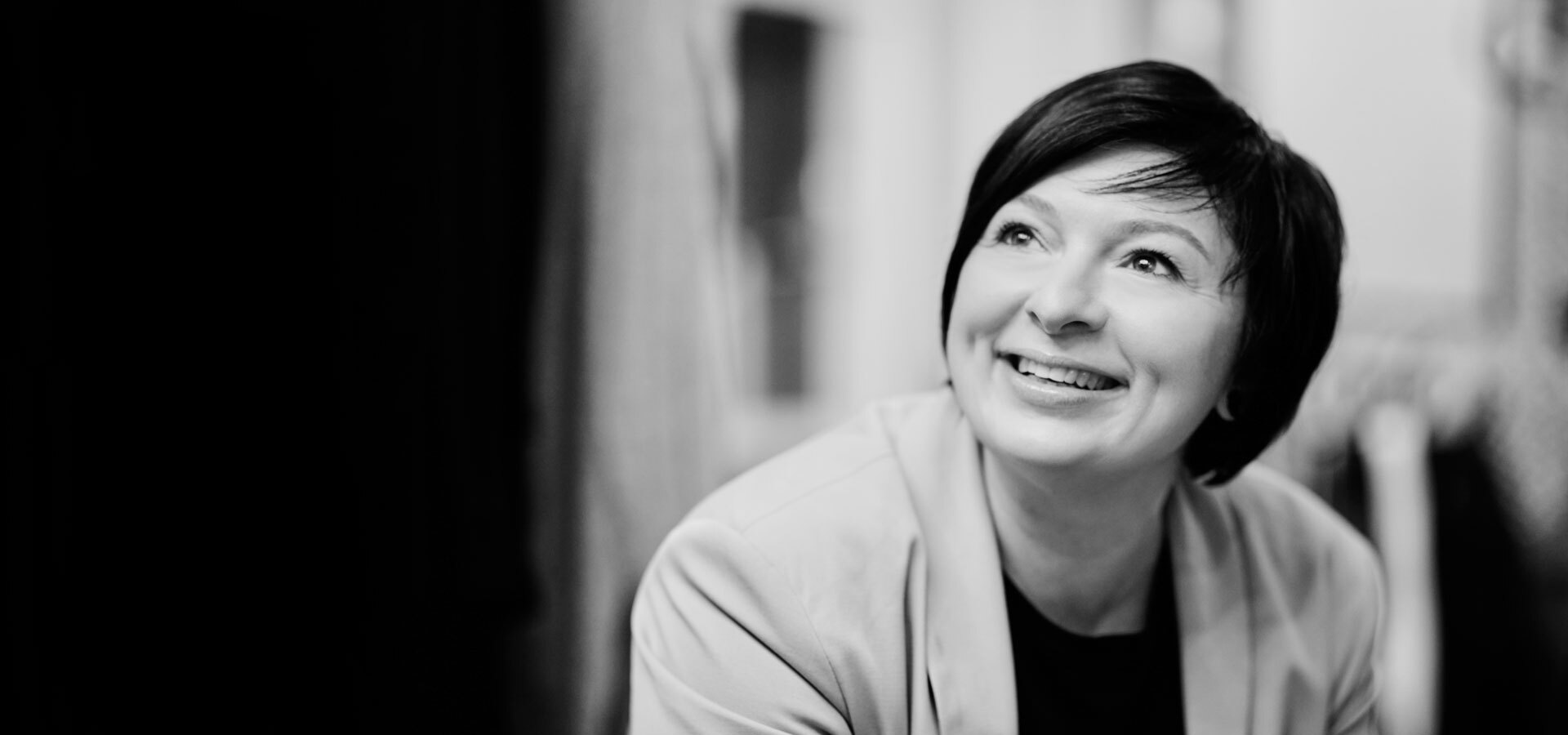 BOBKOVA was founded by Kristina Bobkova at the age of 23 and has since stood for timeless aesthetics and confident femininity. With a fusion of straight Japanese tailoring and feminine elements, she disrupts gender boundaries and creates wearable designs with a sustainability aspect.
Hello Kristina. Thank you very much for taking the time out of your busy day to answer our questions. Could you kindly present yourself and your label?
Having been drawing since the age of 4, I was choosing between interior design and fashion. I started the courses at the Institute of Textile Industry, and after a couple of months I realized that I could not live without fashion, and that creating clothes was my calling. I created my first collection at the age of 17, in 1993, in the era of total shortage of good in the post-Soviet independent Ukraine. There were no fabrics, no technical possibilities, simply, there was nothing. Still, we were very enthusiastic and hard to stop from bringing our dreams to life!
I launched my namesake brand back in 2000, witnessing the development and rise of Ukrainian fashion that was at zenith before the war started. BOBKOVA is a brand for a sophisticated contemporary woman who appreciates high quality, perfect cuts and sensual femininity. We create timeless clothing, it is seasonless and could be worn in different circumstances.It's all about well-thought wardrobe for a woman who pays attention to how she lives, to her values, to the things that surround her in her daily life. Her clothes are her self-expression, and at the same time her tool helping her to feel comfortable, beautiful and powerful in every situation while she's living her day. I am enjoying my work after more than 20 years, the feeling of making women feel beautiful and confident is amazing!
Your brand is renewing the definition of "casual clothing". What is the main thing, that sets your label apart from other casual clothing labels?
I strongly believe in the idea of a conscious wardrobe built on timeless pieces, in upcycling and recycling, in the philosophy of upscaled everyday clothes.
BOBKOVA offers items that surpass trends and are easy to wear in every situation. They form a perfect basic wardrobe with a twist, infused with refinement, comfort and discreet femininity. As designer, I often take inspiration from men's wardrobe to create women's clothing. When I was a student and used to buy men's shoes for myself, that day's Ukrainian society condemned me and considered me strange or unfeminine. Today everything is allowed, and I'm enjoying this freedom while trying to transmit it in my creations. I want to convey the idea of being not afraid to go beyond the standard and ordinary in favor of things that bring us joy. We also position many pieces as genderless – the suits, the shirts, the knitwear – as today also the gender boundaries can and must be blurred.
We are working a lot on the direction of sustainability with an emphasis on upcycling of textiles and yarns. Creating collections from deadstock fabrics, we recycle them, cut them into strips and give them a second life. We also work with old knitted products, unraveling them and recycling the yarn again. We nurture interest in century-old traditions of the Western Ukraine, reflected in the use of one handicraft technique, namely, this is a canvas that is crocheted from strips of fabric and is popularly known as "grandmother's rug". In our studio, the leftovers of production are used for textured knitting - this is how dresses, tops, earrings, bags, capes and even shoes are made today.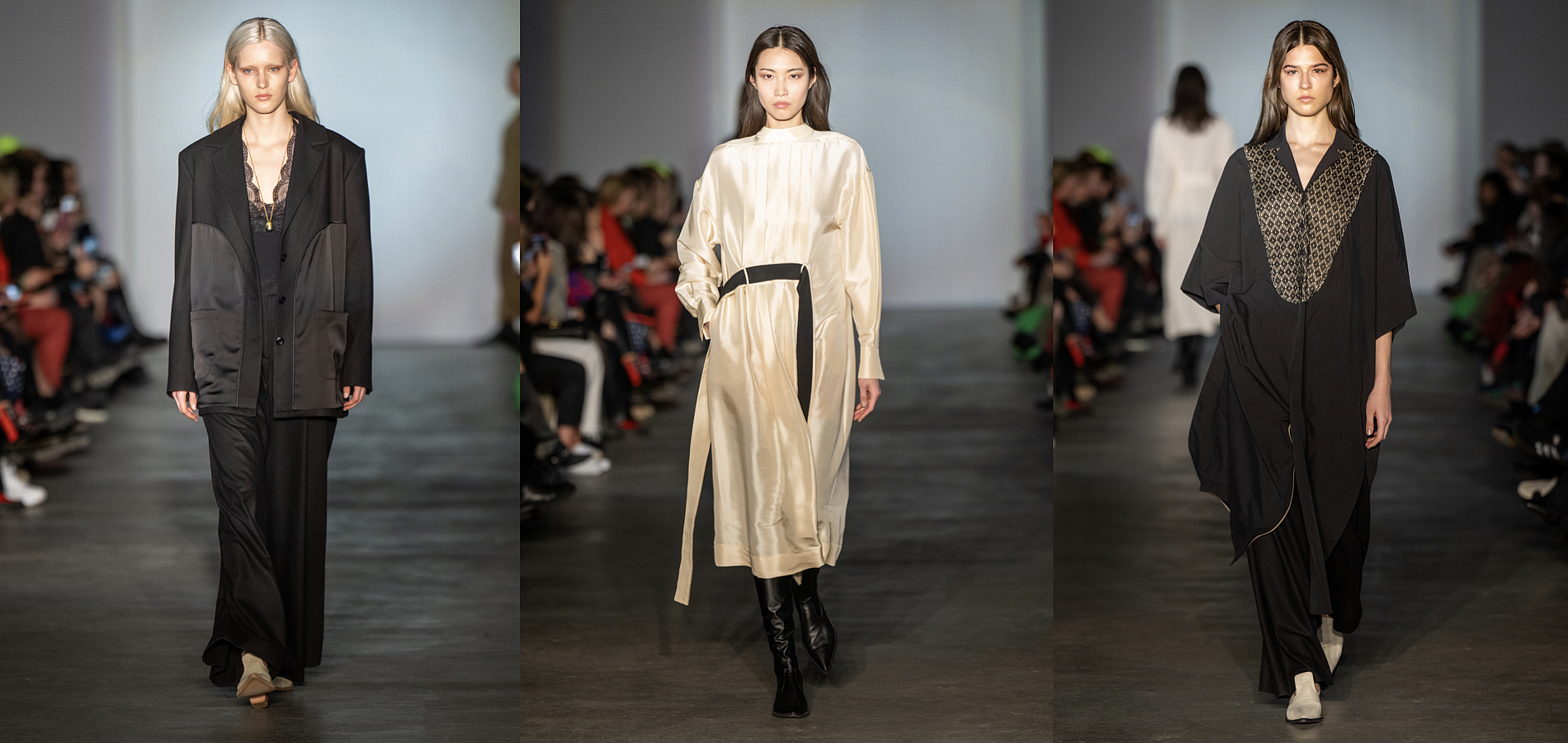 What are the 3 words you would use to describe your label and why?
My collections express the idea of a gentlewoman in the look, the Japanese cut discipline which is about the quality of cut and fit, and the idea of confident femininity. What I want to express is freedom and equality, conscious approach to the consumption of fashion, and cultured aesthetics.
Who is the person you have in mind when designing your pieces? What personality traits does she possess?
I create clothing for a smart, creative, but practical woman who spends much time traveling, who appreciates simplicity and values uniqueness of the items she buys. She is over 30, she has a family and a career that she really appreciates. She travels a lot for work and with her family, reads biographies of outstanding people, enjoys contemporary literature and classics, listens to quality music. She does sports, is careful about her health; interested in fashion, art, politics. She likes to spend her leisure time with her family, but she also attends exhibitions, reads fashion blogs, and is engaged in spiritual practices. The main thing is that our client is an esthete, she lives with taste in everything! She has character, is smart and wants her clothes to be a marker of taste and speak of her intellect and social status.
Has Berlin inspired new creative directions for your designs?
I have been living in Germany for over a year now. Of course, the whole German culture influenced and inspired me. Museums, avenues and galleries of the city; art locations, vintage markets, clubs and the cool atmosphere of the city make a stunning impression, excite the mind and creativity; inspire creativity, new goals and work! IBOBKOVA now is doing already the second collaboration with German companies and creative people. In 2022, this was a collaboration with CHRIS BADER, a manufacturer of leather bags and leather. In 2023, we are preparing a collaboration with a German photographer. The BOBKOVA X SHEIDEMANN collection is inspired by German trachts. Anna and I visited a huge number of museums in Hessen, antique shops; museum directors opened the doors of their vaults for us and got us acquainted with the pearls of German craftsmanship; studied costumes, accessories, materials and cut. The collection created under this inspiration is not German national and does not repeat German costumes. Upcycling and recycling are the main theme of the collection. But we have recycled a lot of old handmade lace, braids, buttons into new things.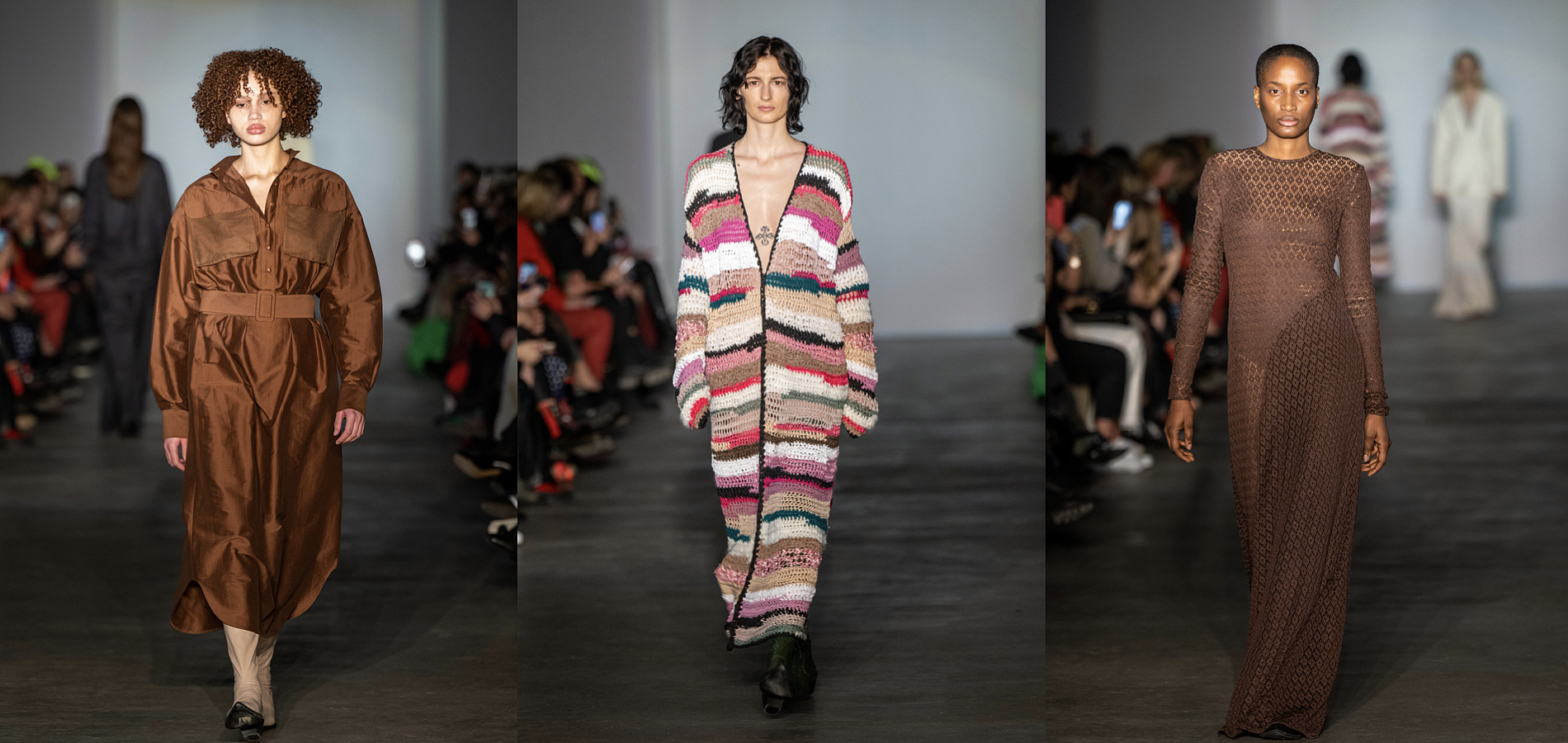 You presented your collection at this season's Berlin Fashion Week for the second time. Was the event a success for your label? Are you going to return for the next season?
Germany became my country of adoption since the beginning of the full-scale war in Ukraine. I immigrated to Marburg in mid-March of 2022 with my two children, from where I was managing all the operations of BOBKOVA at distance, although regularly travelling back to Kyiv to coordinate our atelier. After years of regular runway shows in Ukraine week twice a year, we managed to set up our debut fashion show in Berlin last September with a help of Ukrainian Fashion Week who assisted the brands with showing their collections on the platforms of various fashion weeks worldwide.
This opportunity was a blessing for us, as Berlin is an important spot on the international fashion calendar, with an exceptional level of professionality in every detail. We were assisted a lot by local industry insiders who supported the show immensely to make it happen. The collection was very well received, and we were honoured to be attended by the key German media and opinion leaders, like the legendary Vogue Germany's Christiane Arp who praised the collection and became a big fan of the brand. I'm now sharing my Ukrainian heritage and aesthetics to speak about our culture and Ukrainian fashion to the whole world. It's my mission. In January we presented the second collection thanks to a grant we won at Berlin Fashion Council, and we appreciate immensely this opportunity to have Berlin as the main stage for our runways shows.
What do you think are the opportunities in which both you as a designer and your label will venture in the future?
In 2022 we were concentrating all our forces on growing the worldwide sales and visibility. After the show in Berlin we presented the SS23 collection in New York at a special event of the fashion week, and also in Paris during the fashion week where Anna Wintour discovered the brand at a Ukrainian designer showcase. I'm very proud of how the brand is getting popular internationally, also thanks to the influencers as Leandra Medine, Blanca Miro, Mimi Thorisson, Molly Chiang and Reese Blutstein wearing BOBKOVA.
Our global strategy is largely dedicated to developing inclusivity and gender-fluidity, we contribute to it by inviting models of all ages, nationalities, genders or sizes to participate in the runway shows, campaigns and visual content. Growing in Europe, UK, USA and Asia continues to be our priority, but for the closest future I'm dreaming about the revival of the Ukrainian market as my country and our Ukrainian clients are essential for the brand – and for my heart. I´m constantly in contact with our regular clients there, researching on what Ukrainian women need and want in these hard times, and trying to fulfil their needs and desires. For me it's crucial to keep supporting them with my clothes, made and thought for them, on everyday basis, whatever is happening in our lives.
What is, in your opinion, the importance of Berlin in the fashion scene?
Berlin is the fashion capital of Germany. The main attraction of Berlin for me are its inhabitants, unlike anyone else, fashionable hipsters, pensioners, youth, the classic middle class; representatives of all professions, orientations and ages. They are absolutely fashionable! These people delight me with one common quality - freedom of expression, freedom of thought and their lives. I am sure that it is these people who have made Berlin such an important city in the fashion scene in Europe. I want to come back here again and again!
Thank you for the interview!