Information Regarding the Press, Buyers and Participants of the Berlin Fashion Week in January 2019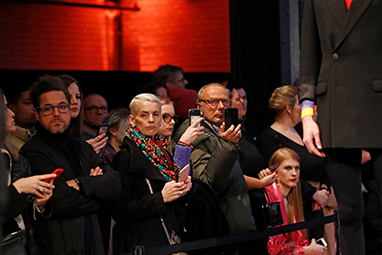 All exhibitors, buyers, designers, specialist audiences and media representatives are ready for the upcoming season of the Berlin Fashion Week. The Berlin Fashion Week will take place between the 15th and 18th of January 2019.
The fact that this renowned fashion event continues to take place in Germany's capital city, proves that Berlin deserves to be recognized as a fashion metropolis. The new collections, brands and designers presented at the Berlin Fashion Week exhibitions attract creatives from all around the world. Whoever wants to experience this phenomenal fashion event must register and accredit for each individual exhibition, show, conference or fashion happening one is interested in.
We would like to highlight the fact that the Berlin Fashion Week is not responsible for accreditations or tickets. Below, we have summarized some of the events, which will be happening. These exhibitions are to be held responsible for accreditations, so please register with them:
Registrations for the Fashion Shows and Presentations
The press accreditations are to be sent to the Berliner Salon: http://derberlinersalon.com/kontakt/ and the MBFW: http://mbfw.berlin/
Der Berliner Salon, 15th of January 2019
"Der Berliner Salon" has some news for us regarding its location for this upcoming season. The ninth edition of the event will take place in the St. Elisabeth Church, in Berlin's district Mitte. The classicist building, built by Karl Friedrich Schinkel, was destroyed during the Second World War. Its interior has not been renovated ever since, as it is under preservation order. This offers an impressive scenery for the event to take place in.
In January 2019 "Der Berliner Salon" will continue to follow through with its motto "Representing German Design." Group presentations will start on Tuesday at 3 p.m. and take place in the side aisles of the church. The central part of the church will be used to display an installation. "Der Berliner Salon" has promised to present a cross section of relevant German design, which is both emotional and inspiring.
At the same time the VOGUE Salon will take place in the grand hall, of the first floor, inside the Villa Elisabeth.
Information regarding the accreditation process can be found under the following link: http://derberlinersalon.com/
MBFW (Formerly Mercedes Benz Fashion Week), 15th - 17th of January 2019
"Follow MBFW Connect Fashion" is the claim of January's edition of the renowned MBFW. Their new concept follows the criteria of being modern, digital and accessible. In collaboration with the creative agency NOWADAYS, Mercedes-Benz presents new, established design talents and a strong platform for presentations.
A selection of high end labels is paramount during the autumn/winter 2019/2020 season. The MBFW will take place in the ewerk in Wilhelmstraße - a location which builds context with its industrial charm. As usual the fashion shows will take place in the forecourt of the location, known as KUBO. These will be broadcasted live and made digitally accessible for end consumers who have an interest for fashion.
The live broadcast can be watched on MBFW's website.
More information can be found here: http://mbfw.berlin/
If you wish to get in touch with designers, you will be able to find their contact details on their personal websites.
Registrations for the Exhibitions and the Conference of the Premium Group
The "All in one Premium Group" ticket will be available in January, specifically for events by the Premium Group. With a single registration, you will be able to sign up and receive a ticket for Premium Exhibitions, Seek, Show&Order and the #Fashiontech conference, which is organised by Premium Group https://visit.premium-group.com/de/.
Premium Exhibitions, 15th - 17th of January 2019
PREMIUM is known to be an international business and networking platform for advanced contemporary fashion. The exhibition has its focus on the entrepreneurial side of fashion, but has also set itself the aim of inspiring, strengthening business relationships, as well as to encourage an exchange of knowledge. B2B-Services are constantly being perfected and developed.
More information can be found here: https://www.premiumexhibitions.com/
Show&Order X Premium: Trade Show for Fashion, Lifestyle & Experience, 15th - 17th of January 2019
200 fashion and lifestyle brands will be presenting their newest collections inside the KÜHLHAUS, which is located on the site of the STATION-Berlin. These collections are particularly trend orientated. The main goal is to inspire the buyers and offer them a broad selection of stories and emotions. Alongside, food and drinks will be offered. The trade show is ideal for concept stores who are looking for a business platform.
More information can be found here: https://www.showandorder.de/
SEEK, 15th - 17th of January 2019
In January 2019 SEEK will celebrate its 10th Birthday. As can be expected, there will be a lot of surprises and parties to look forward to. Autonomy, anti-trend, tradition and origin are the main themes that are vital at SEEK. Subcultures, music and the arts also play and important role here. The key idea is to create new values and cherish these. That is why SEEK is relevant for brands, who form their individuality by redefining themselves, but at the same time continue to value and support their origin.
More information can be found here: https://www.seekexhibitions.com/
#FASHIONTECH BERLIN, 15th of January 2019
The C-level-tech-conference will also take place during the Berlin Fashion Week in January 2019. Disruptive technologies, digital transformations and innovations will be discussed here. The tie between fashion, tech and startups has been a vital characteristic, since 2015 when #FASHIONTECH was founded by the Premium Group. #FASHIONTECH'S concept can be divided into three areas: #LISTEN!, #LEARN! And #EXPERIENCE!. The audience will be able to look forward to international experts and speakers, detailed specialist knowledge, as well as innovative products.
"How to transform your organization" is the main theme of the upcoming conference. This topic will be discussed considering aspects, such as leadership and culture, innovation and technology, future of work and customer journey.
More information can be found here: www.fashiontech.berlin
Registration for further Exhibitions and Conferences
Panorama Berlin, 15th - 17th of January 2019
PANORAMA BERLIN has a broad overview on national and international women and men collections. At the exhibition new brands are constantly being presented, which mainly represent the areas of formal and casual wear, contemporary, denim, accessories, shoes, streetwear and sustainable fashion. Over 800 brands will be present within the seven halls of this location. This season offers a newly developed concept, which supports the motto "Panorama Expedition."
More information can be found here: https://www.panorama-berlin.com/
NEONYT Global Hub for Fashion, Sustainability and Innovation, 15th - 17th of January 2019
The Greenshowroom and Ethical Fashion Show will be replaced by NEONYT. However, this does not cancel out the fact that sustainability still plays a vital role at the new hub. The main aim of this particular trade show is to positively influence fashion and deploy the collaboration of innovation, sustainability and technology. NEONYT functions as a global hub for fashion, sustainability and innovation. Using this concept, the exhibition brings across the most important elements of the fashion industry, style, business, inspiration, knowledge, fun and community.
More information can be found here: www.neonyt.com
Selvedge Run, 15th - 17th of January 2019
The unique variety of exhibitors is what makes Selvedge Run what it is today. Selvedge Run is known to be a "tradeshow for quality garments and crafted goods." Tradition, heritage and handcraft are what the trade show stands for. Especially denim brands stand in the foreground of the exhibition. So called "current brands," which specify in areas such as nature, active and sports are carefully curated in this space. Some of the products presented at Selvedge Run, are exclusively exhibited in Berlin. #Reachthenextlevel is the general motto of January 2019.
The location is set at the south entrance of the ExpoCenter Berlin and is also the "opener" of the exhibition Panorama Berlin.
More information can be found here: http://www.selvedgerun.com/
Fashionsustain, 16th of January 2019
On Wednesday the 16th of January 2019, everything revolving around technology, innovation and sustainability in fashion will be discussed at the Fashionsustain conference. The conference is owned by NEONYT and will be aimed to answer the question how production processes are revolutionized. This event will take place in the Kraftwerk Berlin.
An important theme in January 2019 is water. The knowledgeable speakers will be occupied with themes, such as water stewardship or microplastics and will be presenting their innovations and visionary ideas. The conference and Thinkathon is hosted by Messe Frankfurt.
More information can be found here: www.fashionsustain.com
Side Events and Aftershow-Parties
In the calendar provided by us, you will be able to find further events, which are taking place throughout the Berlin Fashion Week. Both, fashion shows and exhibitions will be listed there, as soon as they are publicly announced. Aftershow-Parties, pop-up-shops, beauty-lounges and further side-events can be found here.
The Berlin Fashion Week calendar can be found under the following link: http://www.fashion-week-berlin.com/kalender.html
Press information regarding the fashion location, Berlin
You will be able to find current information, numbers and facts regarding the Berlin Fashion Week here:
https://projektzukunft.berlin.de/fileadmin/user_upload/pdf/kurzinfos/KurzinfoMode_Juli2018_11062018_2.pdf
If you have any further questions regarding press information, you may contact redaktion@fashion-week-berlin.com.
Further pieces of information:
https://fashion-week-berlin.com/pressebereich/registrierungen.html