Berlin Fashion Week: The highlights of day 1 and 2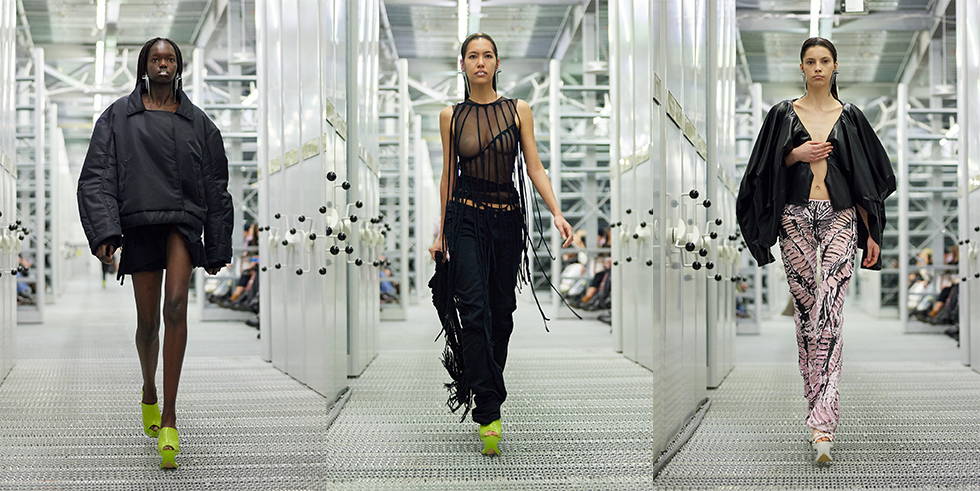 Berlin Fashion Week starts with new Berlin Contemporary Concept and celebrates solidarity
Berlin Fashion Week started on Monday at its new location. Kicking off the week, DER BERLINER SALON, the instance of German design, presented 44 designers at stilwerk KantGaragen. Amongst others German and Ukrainian fashion houses like Société Angelique and Jean Gritsfeldt, the hybrid concept The Twins by Tutia Schaad and Michael Sontag, Iranian-Canadian hat designer Maryam Keyhani, and interior labels like New Tendency and Vaust Studio. With Berlin Contemporary, Berlin Fashion Week puts all the fashion shows for the first time on one official calendar and authentically reflects the aesthetic strengths of the city. The first season of Berlin Contemporary was inaugurated by Danish designer Sia Arnika at the historical Knorr Industrial Park on Monday evening with a collection of the extraordinary materials and shapes that unite traditional and contemporary silhouettes in whimsical-beautiful forms.

At the festive opening reception by Fireside with invitees from Germany and the world, the Governing Mayor Franziska Giffey, Berlin Senator for Economy, Energy and Enterprise Stephan Schwarz and Christiane Arp, Chair of the Fashion Council Germany, recalled the relevance of the vivid creative scene.

The second day continues with a busy show schedule at Berlin Contemporary. At KantGaragen, VORN Fashion Show was a best-of sustainable fashion. Rianna + Nina presented their new greek-summer-inspired collection made of luxurious vintage fabrics in an intimate salon-atmosphere at the Regent Hotel. Newcomer Dennis Chuene showed a collection that united street wear elements and craft at KantGaragen. Malaikaraiss elegant, yet minimalist evening wear found a fitting setting at the design gallery Nella Beljean. With W.E4., Rebekka Ruetz, Marcel Ostertag, Kilian Kerner and Danny Reinke teamed up at Bolle Festsäle.

For Premium Fair it was back to the roots for the 20th anniversary. The Premium Group demonstrated with Seek fashion fair, content platform Fashiontech and the Conscious Club at Messe Berlin that Berlin is a relevant retail hub, but also shapes the conversation about the future of fashion and sustainability. The new Melagence Order Festival and Studio2Retail, too, were exciting platforms for retailers and audiences.
Additional shows on Tuesday evening:
18h Esther Perbandt
19h Odeeh
20h SF1OG
20h Women in Fashion Meets Susumu Ai
21h Bobkova
More information about the designers and downloads of the show images you find here: https://fashionweek.berlin/berlin-contemporary.html