Press, buyer and participation information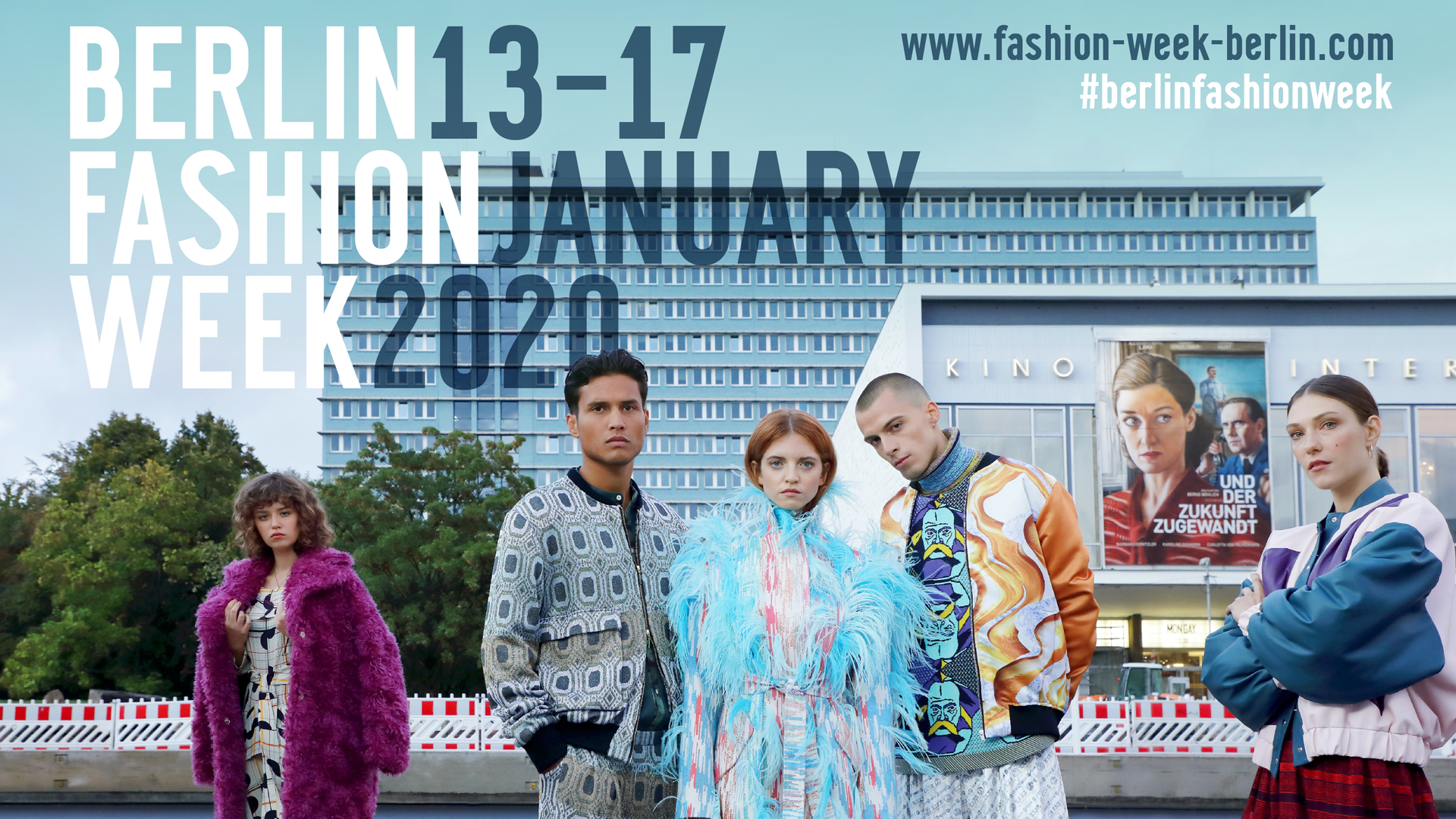 Information on all registration, accreditation and participation options for Berlin Fashion Week in January 2020.
From 13 to 17 January, Berlin Fashion Week will start a new season. Buyers, designers, textile entrepreneurs and press representatives will meet at the numerous trade and fashion fairs, the internationally popular runway shows, the conferences and the many side events. For one week in January, everything in the capital will revolve around fashion, sustainability, innovation and technology. If you want to be there, you should now register and/or be accredited for the individual fairs, shows, conferences and fashion happenings.
As in past seasons, we have summarised here everything you need to know about the registration, accreditation and participation options.
Please note that Berlin Fashion Week itself is not responsible for accreditations and tickets. Please contact the offices listed below directly:
Registrations for the fashion shows and presentations
Mercedes-Benz Fashion Week, 13-15 January 2020
The Berlin show format will take place for the first time from January 2020 at the Kraftwerk in Köpenicker Strasse. The former combined heat and power plant, near the Jannowitz­brücke, offers urban industrial charm and plenty of space for the runway shows of the great, established designers - but also of the up-and-coming young design talents. A 45-metre long catwalk and numerous presentation areas, some of which are also open to the public, await the fashion fans.
You will find more information about the Mercedes-Benz Fashion Week at: http://mbfw.berlin/
You can obtain accreditation here
If you prefer to contact the individual designers directly, you can find their press contacts and agencies on their websites.
Registration for Neonyt and the Neonyt conference Fashionsustain
The Greenshowroom and the Ethical Fashion Show were already replaced in January 2019 by the global sustainability hub Neonyt, at which everything revolves around fashion, sustainability and innovation. The Neonyt formats will take place for the first time in January 2020 at the former Tempelhof Airport.
For accreditation and registration (with which you can visit PANORAMA and Selvedge Run & Zeitgeist at the same time) click here: https://www.neonyt.net/anmeldung
Neonyt, 14-16 January 2020
Neonyt consists of the fair, the showcases, the Fashionsustain conference by Messe Frankfurt and the Thinkathon, the Neonyt fashion show, the influencer and blogger format Prepeek and the networking events as well as the Neonyt party.
Visitors to Neonyt can expect everything from contemporary, casual and urbanwear, denim, street and sportswear to business outfits for women and men and garments for children.
Of course there will also be accessories, jewellery and shoes. The highlight will be the best of sustainable fashion in curated multi-brand looks on the catwalk at the Neonyt Fashion Show on 14 January. The main theme for January 2020 is "Air". In January, the fashion industry's carbon footprint will be closely scrutinised on the sustainability hub.
More about the Neonyt Trade Fair: https://neonyt.messefrankfurt.com/
Neonyt Fashionsustain conference by Messe Frankfurt, 14-16 January 2020
The international conference format Fashionsustain is dedicated to the topics of technology, sustainability and innovation, all of which are important drivers of the fashion and textile industry. Fashionsustain will also take place for the first time on the site of the former Tempelhof Airport in Berlin. In Hangar 4 best practices will be presented, sustainability issues discussed and visionary approaches shown. Top-class speakers are invited, whose ideas will contribute to making the fashion industry more sustainable. The "Showcase of Change" exhibition area will provide an opportunity to experience what is being discussed on the conference stage.
More information about Fashionsustain: www.fashionsustain.com
Registration for PANORAMA and Selvedge Run
Panorama Berlin and the Tradeshow for Quality Garments Selvedge Run & Zeitgeist take place twice a year. With a single registration you can visit both fairs as well as Neonyt and Fashionsustain:
https://panorama-berlin.com/register-now/
Panorama, 14-16 January 2020
In January, Panorama will be presenting a fair innovation on an area of about 10,000 square metres at Tempelhof Airport. The brands will be shown in modular pavilions in a so-called "Brand Avenue", which will be implemented with the support of the Luxembourg com­pany Viewbox. The motto of the Panorama edition in January is #REBELWITHACAUSE. Visitors can expect fashion for women and men from the Cool Casual, Smart Formalwear, Sportswear, Contemporary Styles, Denim, Heritage and Streetwear, Accessories and Shoes segments, as well as sustainable fashion and curated lifestyle products. In the central entrance area and in Hangars 5 and 6 there will be brand presentations with clear mes­sages, retail solutions and exciting lectures.
More information about Panorama: https://panorama-berlin.com/
Selvedge Run & Zeitgeist, 14-16 January 2020
Selvedge Run & Zeitgeist is about tradition, heritage and craftsmanship. For the first time, it will be taking place in the exclusive showrooms of Hangar 5 at the former Tempelhof Airport. Instead of short-term trends, Selvedge Run focuses on high quality and sustainable production. The segments are Denim, Craft, Current and Outdoor. As a special highlight, several brands from the Japanese denim community will be available in Europe for the first time. The motto is #TRENDSAREFORSUCKERS and is intended to make a statement against short-lived trends.
More information about Selvedge Run & Zeitgeist: https://www.selvedgerun.com/
Registrations for the Premium Group formats
Twice a year the Premium Group organizes two international fashion fairs and a conference. Also this year the "All in One Premium Group Ticket" will be available, with which you will receive admission to Premium, Seek and the Fashiontech conference at the same time.
Click here to register for the Premium Group Ticket: https://visit.premium-group.com/en/
Premium, 14-16 January 2020
The autumn/winter 2020/21 edition of the Premium fashion fair will take place at Station Berlin from 14 to 16 January. Both men's and women's fashion will be presented at Premium. Premium is an important business platform. It is all about establishing long-term business partnerships and setting new trends. In January the focus will be on: Responsible Future. Retail Experiences. Digitization. Almost all segments are represented: Menswear, Womenswear, Sportswear, Outdoor Styles, Athleisurewear, Footwear, Accessories, Gadgets, Beauty, Homeware, Fragrances, Stationery and Fashion Start-ups.
More information about Premium: https://www2.premiumexhibitions.com/de
Seek, 14-16 January 2020
Seek is the unconventional trade fair for urbanwear and streetwear which already shows today what will be worn on the streets tomorrow. From 14 to 16 January you can find in the Arena Berlin big commercial brands next to smaller high-priced collections, which gives the fair special dynamics. The concept aims to place the brands in the right environment and create a friendly, unrivalled atmosphere for business.
More information on visiting Seek: https://www.seekexhibitions.com/
Fashiontech Berlin, 14 and 15 January 2020
Fashiontech is Europe's leading conference for fashion and technology with participants from 38 countries and over 40 speakers. Among others, model and influencer Stefanie Giesinger, Online Marketing Rockstars founder Philipp Westermeyer and Antje Hundhausen, Vice President Brand Experience at Deutsche Telekom, will give lectures on the stage. Disruptive technolo­gies, digital transformation and innovations will be discussed. The combination of fashion, tech and start-up industry has been characteristic since the founding of Fashiontech Berlin by the Premium Group in 2015.
More information about the Fashiontech conference: https://fashiontech.berlin/
Aftershow parties and side events
In our calendar you will also find numerous other events around Berlin Fashion Week. Both the trade fairs and the fashion shows will be listed there as soon as the dates have been announced. You can also find aftershow parties, beauty lounges and other side events here.
Click here for the official Berlin Fashion Week calendar:
http://www.fashion-week-berlin.com/kalender.html
Press releases on the fashion location Berlin and other press releases
Here you will find general and current information, facts & figures on Berlin Fashion Week and the fashion location Berlin as well as the press contacts of the individual organisers: https://fashion-week-berlin.com/pressebereich/presse.html
For further press enquiries (not registration enquiries), please feel free to contact redaktion@fashion-week-berlin.com .
Further information: https://fashion-week-berlin.com/en/pressroom/registration.html