Group Exhibition and Dèfilès at Berliner Salon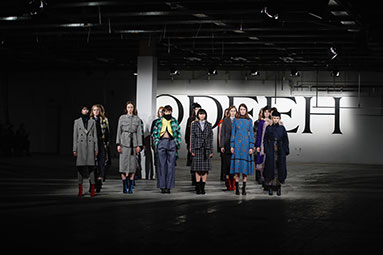 "Diversity, elegance and creativity" - that's what visitors can expect from this years group exhibition of Berliner Salon autumn/winter 2019/2020 - these are the participants:
On time with the Fashion Week Berlin the Berliner Salon week starts as of today. Promising fashion talents and well-established and top-level designers are showing off their collections from 14th till 17th of January. The expert adience can look forward to the dèfilès of Lou de Bètoly, Dawid Tomaszewski, Marina Hoermanseder and William Fan.
The kick-off will be presented by Odeeh this Monday evening. The designer of the group exhibitions continue to receive support of the Senate Administration for Economics, Energy and Businesses.
"The group exhibition of the Berliner Salon is the centerpiece of the Berlin Fashion Week and embodies the diversity, elegance and creativity of the German fashion industry. We have been supporting the Berliner Salon and its design talents from Berlin for many years and we look forward to their display of the collections, media reach and buyer response. Thanks to our sustainable promotion, many designers were able to establish themselves. This is also beneficial for the location and extends far beyond Berlin."- says Mayor Ramona Pop
Since 2007 the Berliner senate administration did invest more than 10 million Euros in the development of the Berliner fashion landscape and is supporting Der Berliner Salon. In 2019, the labels Lou de Bètoly and Dawid Tomaszewski can look forward to this.
The Berliner designers who will be presenting their collections at the group exhibition this year are:
AENCE, AEYDE, ALLUDE, BANNACH, DAWID TOMASZEWSKI, GABRIELE FRANTZEN, HORROR VACUI, IRIS VON ARNIM, LALA BERLIN, LARA KRUDE, LILI RADU, MAIAMI, MARINA HOERMANSEDER, MARJANA VON BERLEPSCH, MCM, MYKITA, NUTS AND WOODS, ODEEH, OSKO+DEICHMANN, PB0110, PHILOMENA, PETER O. MAHLER, RIANNA + NINA, ROECKL, STEIDL VERLAG, STIEBICH & RIETH, SMINFINITY, STRENESSE, STEINROHNER, TALBOT RUNHOF, TREULEBEN, UNÜTZER & WILLIAM FAN