Berlin Fashion Week brings together the highlights of the fashion scene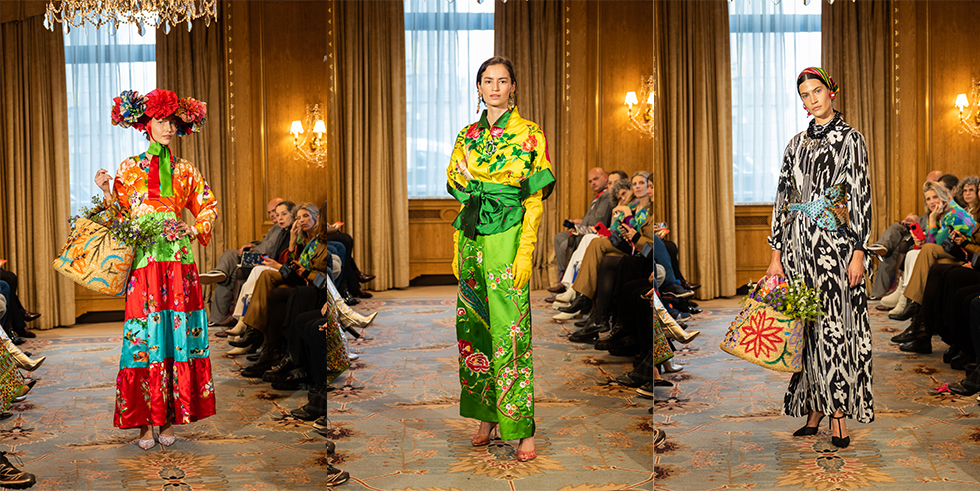 Berlin, January 27th, 2023
From January 16th to 21th, Berlin Fashion Week was once again the central meeting point for the national and international fashion and creative scene with 27 top-class shows, the leading trade fairs PREMIUM and SEEK, 30 innovative concepts for retailers and consumers, two conferences and many workshops on sustainability, as well as numerous side events. Zeitgeist merged with artful tailoring at Berlin Contemporary, the new concept that showed a selection of established fashion houses and emerging talents that capture the creative spirit of the city. As the fashion industry's flagship event, DER BERLINER SALON presented the pinnacle of German and Ukrainian design. Platforms 202030 - The Berlin Fashion Summit and PLATTE.Berlin shaped relevant, trend-setting discourses for the future of fashion. In total, more than 20,000 guests from Germany and abroad visited the Berlin Fashion Week events this season.

Germany's capital, whose fashion industry with a turnover of five billion euros and 4,800 companies employing 30,000 people and is already one of the region's most important industries, has been a hub for sustainable fashion, but also proved to be a creative hub where subculture and zeitgeist meet a thriving creative economy.

New Formats and Community Spirit
New accents were set by the multiplier format The Newest at KantGaragen. The new location, a unique building in the New Objectivity style, was the main venue for the Berlin Contemporary Runways and the established BERLINER SALON. This was not only the stage for the pinnacles of German design, but also gave Ukrainian designers a platform.

Among the 44 carefully curated exhibiting designers were established names like Julia Leifert and Working Title, couture by Karen Jessen, creative hybrid concepts like The Twins, but also exciting accessories labels like Iranian-Canadian hat designer Maryam Keyhani, jewelry label Sevar Studios or interior houses like New Tendency and Vaust Studio.

A sign of community was set by Rebekka Ruetz, Marcel Ostertag, Kilian Kerner and Danny Reinke with their off-site format W.E4. Fashion. The group presented four collections on one day at Bolle Festsäle in Moabit.

Opening with Senator Schwarz and Governing Mayor Franziska Giffey
With 600 invitees, Berlin Fashion Week was ceremoniously opened by Stephan Schwarz, Senator for Economics, Energy and Enterprises, and Franziska Giffey, Governing Mayor of Berlin, together with the Fashion Council Germany and Hubert Burda Verlag.

"Our city is Germany's most important creative location with international appeal, and this is reflected in Berlin's fashion industry in particular. It is a magnet for young talents, fashion professionals and designers from all over the world and shaping the discourse on topics such as diversity, sustainability and new technologies. Berlin Fashion Week once again impressively demonstrated this and encouraged us to continue developing it together as a showcase for the creativity and innovation that define Berlin as a fashion capital. I am pleased that this year, in addition to formats such as Berlin Contemporary and the Berliner Salon, we were also able to support designers from Ukraine with shows or booths at Fashion Week," explains Senator Stephan Schwarz.

Numerous other receptions and dinners hosted by Premium Group, FAZ and the Fashion Council together with Vogue provided ample opportunity for evening networking during Berlin Fashion Week.

Fashion with Authentic Zeitgeist
Over the course of four days, established designers and emerging talents showed multifaceted collections on runways and in presentations spread throughout the city, celebrating high craftsmanship as well as the city's subcultures.
The runway debut of Danish designer Sia Arnika kicked off the week at the historic Knorr-Gewerbepark with a slow fashion collection of unusual materials and cuts, merging traditional and contemporary elements into whimsically beautiful shapes. This was followed by the highly acclaimed presentation of the label Acceptance Letter by Seoul-born and Antwerp-trained designer Jakeyoung Sim at Studio Chérie.

Highlights of the week included South African designer Dennis Chuene with a mix of sportswear and textile art at KantGaragen, the upcycling collection of SF1OG by Rosa Marga Dahl at Rotes Rathaus, the deconstructed couture creations of LML Studio by French designer Lucas Meyer-Leclère at Marienkirche, the queer, motorsport-inspired collaboration by Namilia with the iconic video game Need for Speed edition Unbound, the show debut of Haderlump at the old Bötzow Brewery, and the club couture collection of American designer Olivia Ballard at the industrial MaHalle, each celebrating the city's club culture and underground movements in their own formal language.

With Odeeh at KantGaragen and Rianna+Nina at Regent Hotel, established German fashion houses showed elegant-feminine collections at Berlin Fashion Week. Esther Perbandt celebrated not only her collection in a hybrid performance with holograms at the Kunstbibliothek, but also the inclusion of her designs in the collection of the Museum of Decorative Arts.

VORN Fashion Show presented the best of international sustainable fashion at KantGaragen. From around 100 designers and brands, 49 looks were put together on the visual trend themes of the season. Marc Cain presented their designs for the new season in the spectacular terminal of the historic Tempelhof Airport, and Malaikaraiss showed evening and bridal wear at design gallery Nella Beljan.
A Statement of Solidarity
Again, Berlin provided a platform for Ukrainian designers: the versatile conceptual clothing of Dzhus and refined minimalist designs of Bobkova were shown at KantGaragen. Litkovska presented conceptual tailoring creations at the renowned Feuerle Collection, while Jean Gritsfeldt presented his disruptively elegant designs at the Altes Kraftwerk in Oberschöneweide. All four designers paid homage to their home country in their own way.

Additionally, trade fair presences of 16 other Ukrainian labels at the PREMIUM and SEEK trade fairs were supported by the Senate Department for Economics, Energy and Enterprises.

Conclusive Concepts for Professionals and Audiences
New and established retail concepts for professionals and consumers were important program parts of Berlin Fashion Week this season. The Melagance Order Festival celebrated its premiere in Berlin with a curated showroom for the trade public, while Studio2Retail further expanded its offer for end consumers with showrooms, pop-ups and digital events. Amongst others, William Fan showed at the Alhambra, Susumu Ai invited to an exchange with Women in Fashion and Ward'Robe Affaire offered a Fashion Week Rental Flatrate.

The fashion trade show PREMIUM, celebrated its 20th anniversary this season with a party at the Hotel Telegraph Office. Since its inception, Premium Group has established itself as a fixture in the order calendar for trade audiences and journalists, and expanded its portfolio with the acquisition of streetwear trade show SEEK. With over 500 participating brands, both fairs are among the largest platforms for contemporary fashion in Europe.

Discourse hub for sustainability and inclusion
Beyond the trade fairs, the Premium Group shapes the discourse on pressing issues in the fashion industry with its diverse formats: While Fashiontech explores technological innovations, THE CONSCIOUS CLUB is dedicated to the topic of sustainability.

Sustainability also remains the focus of 202030 - The Berlin Fashion Summit. With speakers from institutions such as Condé Nast, Asket and Sustainabelle, the summit addressed ecological challenges of the fashion industry and possible solutions. Studio 183 presented The Future of Upcycling Fashion in a Digital Age, a solution for circular fashion. PLATTE.Berlin, on the other hand, was dedicated to the topics of diversity, inclusion and justice in the fashion industry with a festival and occasionally controversial interventions and presentations.

The next Berlin Fashion Week will take place from July 10th to 14th, 2023, together with the fashion fairs of the Premium Group.