Berlin Showroom Paris Autumn/Winter 2019/2020: The participants have been selected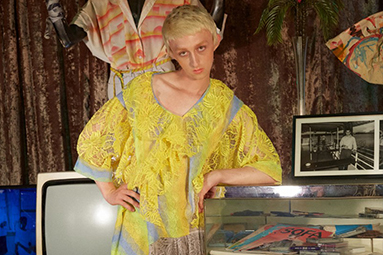 These are the Labels that will present their collections in Paris.
From the 1st until the 5th of March 2019, ten carefully selected German fashion labels will be presenting their newly designed collections in the DACH Showroom of the Rue Perée in Paris.
Twice annually, throughout the course of the Paris Fashion Week, the Berlin Showroom gives German newcomer-talents and designers the oppotunity to show their collections to an international audience.
After a great amount of applications have been submitted for the autumn/winter season of 2019, the jury has finally made their decision on who the winners are. In March, the audience will be able to look forward to the following ten labels:
The Labels:
Agnes Nordenholz
Fomme
Hui-Hui
Malaikaraiss
Namilia
Nobi Talai
Schepperheyn
Starstyling
Tata Christiane
Vladimir Karaleev
Hien Le und Damur are considered as successors if any of the above mentioned labels cancels.
The Jury:
The participanting labels have been selected by the following jury of fashion experts:
Camille Boyer - AFA Agency, Sales Manager
Melissa Drier - WWD, Berlin Correspondent
Florian Müller - Müller PR & Consulting, PR & Brand Consultant
Dogukan Nesanir - Indie & Material Magazine, Fashion Director
Hella Schneider - Vogue.de, Features Editor
Grit Thönnissen - Tagesspiegel, Management of Style
Tanja Mühlhans - SenWEB, Management of Creative, Media and Digital Economy/ Projekt Zukunft
Arne Eberle - Berlin Showroom & OE Magazine
Dates and Location:
Berlin Showroom at DACH Showroom
18 Rue Perrée
75 003 Paris
1st until 5th of March 2019
Berlin Showroom
The Berlin Showroom was initiated by Projekt Zukunft/ the Senate Department for Economics, Energy and Public Enterprises. It is mainly financed by the "Opening up New Markets"-Programme and the EFRE (Europäischer Fonds für regionale Entwicklung).
Since 2007, the Senate Department has been supporting group presentations of Berlin fashion labels in Paris and New York.
Further information:
https://www.berlinshowroom.com/paris-women/
https://www.facebook.com/BerlinShowroom
https://www.instagram.com/berlin_showroom/
https://projektzukunft.berlin.de/