Call for Application: Berlin Showroom S/S 2021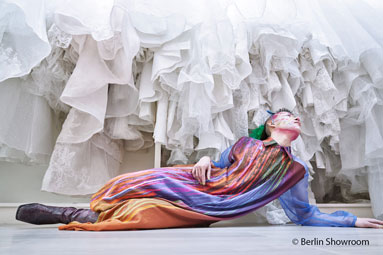 The Senate Department for Economics, Energy and Businesses encourages designers to apply for the Berlin Showroom Paris S/S 2021.
Until July 30th, designers and labels from Berlin can apply for the Berlin Showroom in Paris where they'll present their spring / summer 2021 collections to buyers and the public at the Paris Fashion Week. The participants will be announced at the beginning of August. The jury selects according to the following criteria:
fashion label (womenswear or accessories) should be located in Berlin / Brandenburg

Unique characteristics of the fashion label

Production capacity of the fashion label

quality and marketability of the collections

mix of more established Berlin fashion labels and upcoming labels
Labels from Berlin which meet the specific requirements can apply via the online application form.
Berlin Showroom as a part of the DACH showroom
As in previous years, the Berlin Showroom will again take place in Paris in 2021 together with Mode Suisse (Switzerland) and the Austrian Fashion Association (Austria) as a joint DACH showroom.
Digital platform and flexible concept ensure the international order business
Since the corona pandemic has changed a lot of of things, the Berlin Showroom came up with a new concept. The concept can be flexibly adapted to the current situation, includes alternative backup plans and digital solutions. If the situation allows it the event will take place as usual, live in Paris. The participating labels will then present their spring / summer collections to international buyers at the Paris Fashion Week. For buyers who cannot come personally due to the pandemic restrictions, there will get presentations via the digital DACH showroom platform and online appointments.
To ensure the international order market, the showroom audience has the opportunity to get in touch with the designers and view brand profiles digitally for the first time on a B2B sales platform specially developed for the showroom.
If the showroom cannot take place in Paris, all dates and presentations will be moved to the online platform.
About the Berlin Showroom Paris
The Berlin Showroom was initiated in 2013 by Berlins Senate Department for Economics, Energy and Businesses / 'Projekt Zukunft' (Project Future) and is primarily funded by the "Opening up New Markets"-programme and EFRE (European Funds for Regional Development). The diligent curation of the group presentations, is implemented by the IDZ Designpartner Berlin GmbH, Arne Eberle press+sales and the senate initiative 'Projekt Zukunft'.