Shop Local on the Map of the Berliner Showroom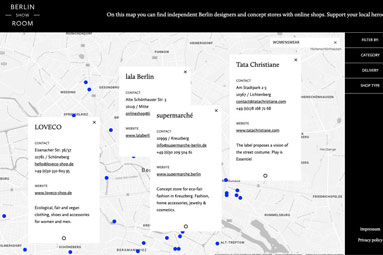 The Designer Map gives you a quick overview of Berlin designers and their online shops.
In cooperation with the Senate Department for Economic, Energy and Public Enterprises / Projekt Zukunt, the Berlin Showroom has designed a digital map that shows more than 100 Berlin designers and labels. Especially in the difficult times of the corona pandemic, the map should support the many independent Berlin designers and concept stores under the motto #shoplocal, and encourages Berliners to buy online but still locally.
The interactive map contains information on the current order and delivery options, whether orders can also be picked up and references to the respective online shops in which the products can be found. In addition, users can also filter by different categories, such as "womenswear", "menswear", "lingerie", "accessories", "swimwear", "bags" and others, and by shop type, such as online shop, designer shop or multibrand shop.
Go to map: http://map.berlinshowroom.com/
About the Berlin Showroom
The Berlin Showroom in Paris presents the latest collections by Berlin designers to international buyers and press representatives twice a year. The Berlin Showroom was Projekt Zukunft. It is largely financed by the "Opening up new markets" program and the EFRE fund. The presentation will be carried out by IDZ Designpartner Berlin GmbH in collaboration with Arne Eberle press + sales and the Projekt Zukunft initiative.