Berlin labels present their collections in Paris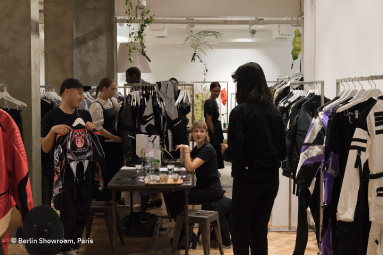 The Berlin Showroom, sponsored by the Senate Administration and Projekt Zukunft, will take place for the 15th time.
It's that time again: The Berlin Showroom will take place from February 28th until March 2nd 2020. It takes place in Paris twice a year throughout the Paris Fashion Week, and gives Berlin's designers and newcomers the opportunity to present their collections to an international audience.
This season, the Berlin Showroom will again be held in cooperation with the Austrian Fashion Association and Mode Suisse in a joint DACH showroom. For the Autumn/Winter 2020 edition, a total of 30 labels from Berlin, Austria and Switzerland were invited to present their collections. For six of the 12 designers from Berlin, the Berlin Showroom will be a premiere in which they will present their designs to an international audience for the very first time.
The labels of the A/W 2020 Berlin Showroom:
The Berlin Showroom, which was initiated by Projekt Zukunft and the Senate Department for Economics, Energy and Businesses, is largely funded by the "Programme for Internationalisation" and by the ERDF. The joint presentation is implemented by the IDZ Designpartner Berlin GmbH in cooperation with the agency Arne Eberle press+sales and the state initiative Projekt Zukunft.
Berlin Showroom
DACH Showroom
18 Rue Perrée
75003 Paris