Expert talks on "Responsible Future" at Seek and Premium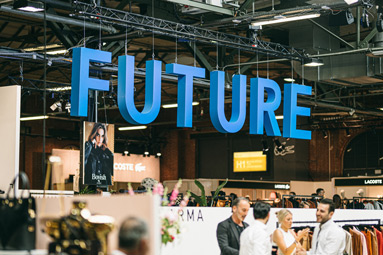 At Seek and Premium, the topic of "Responsible Future" will be discussed in new content formats.
At Premium and Seek, the focus in January will increasingly be on sustainability and the future. For the first time, in addition to the Fashiontech conference, there will be discussion rounds and talks on the topic of "Responsible Future" at both Premium Group fairs. These will take place both in Hall 3 at Premium and in the new Fashiontech studio in the Seek Glass House.
"The fashion industry is one of the biggest polluters in the world. As trade fair organisers, we feel it is our duty to act responsibly and do our part," explains Alina Hahn, Seek and Project Manager Responsible Future.
Visionaries and gamechangers of the fashion world are invited. The talks, which are aimed at an international audience, will be held in English. While creating the line-up, the Premium Group worked with the support of experts Dorothee Sarah Speha, DS Agency, and Mathilde Charpail and Olga Johnston Antonova of Sustain Your Style. The result is a programme full of promising table talks, panels and master classes spread over the three locations.

The DER SPIEGEL Live Podcast with Anita Tillmann (PREMIUM GROUP), David Fischer (Highsnobiety) and Philipp Westermeyer (Online Marketing Rockstars) at Fashion­tech Berlin in the Aletto Hotel and the Table Talk with Olga Johnston Antonova (sustainyourstyle), Frederik Ekström (Tretorn), Hendrik Lindholm (Sandqvist), Tony Tonnaer (Kings Of Indigo) and Pauline Marie Treis (Jungle Folk) in the Fashiontech Studio in the Arena Glass House, are just two of the highlights worth mentioning.
Click here for the complete programme of the new content formats: https://premium-group.com/en/blog/fullprogramme
The FASHIONTECH Berlin conference will take place at the Aletto Hotel, directly opposite STATION Berlin, where Premium is located. The FASHIONTECH studio will be located as part of SEEK in the Arena Berlin Glass House.
To register for Premium, Seek and Fashiontech Berlin click here: https://visit.premium-group.com/en