Highlights of the Shows and Exhibitions in July 2019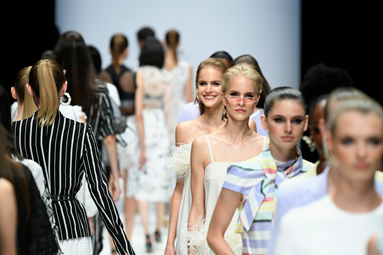 Twice a year, designers, trade visitors, visionaries, influencers and buyers are drawn to the exhibitions, shows and networking events of the Berlin Fashion Week.
In July 2019, very special highlights await, which not only offer the professional public, but all visitors a special fashion experience. These include the main exhibitions Premium Exhibitions, Panorama Berlin, Show&Order, NEONYT, SEEK and Selvedge Run. Exciting shows by aspiring and well-known designers and the events of the Fashion Council Germany will take place again.
We have summarized the highlights for you:
SHOWS:
COMEBACK
After not taking part in winter, Guido Maria Kretschmer and Michael Michalsky are back. Kretschmer's work will be presented inside the ewerk on the first day of the Berlin Fashion Week. Michalsky will take over the closing of the MBFW with his couture collection "Brothers & Sisters".
NEWCOMERS
#Damur is not only contemporary because of the hashtag. The designer breaks all stereotypes and designs fashion for everyone. No, not unisex, but trans is his motto. The label will be presented inside the ewerk on Tuesday evening with a lot of self-confidence, youthfulness and charm.
FUNDING: GROWHOUSES
With a new concept, the up-and-coming talents will be presenting themselves for the first time on the forecourt of the ewerk in so called Growhouses, where they will be visible to a wide audience. Among them are Ivanman, Vladimir Karaleev and Isabel Vollrath. A total of 10 designers, sponsored by the Senatsverwaltung für Wirtschaft Energie und Betriebe/ Projekt Zukunft, will be given the opportunity to present their key looks.
The newcomer Lou de Betoly and NEONYT also received a coveted show slot for Tuesday morning.
SHOWCASES
This season, MBFW's new inspirational space will feature various talks, as well as a social media night and exhibitions, including the looks of the Dominicana Moda.
WOMENSWEAR
Marina Hoermanseder is one of the prominent names of the Berlin Fashion Week. The designer is known for her fetish-inspired fashion as well as her extravagant shows. The high demand for this show each year is probably the reason why she will present her Spring/Summer 2020 collection in the SEZ (Sports and Recreation Centre), which used to be the GDR prestige object.
EXHIBITIONS:
WOMEN'S/MEN'S WEAR
If you are interested in women's and/or men's wear, you should definitely visit these exhibitions in July.
Premium Exhibitions
The Premium is an international business platform for contemporary and progressive fashion. It defines the future trends of women's and men's wear.
This season, the focus lies on the topic: "Sport goes Fashion", a trend that will shape the looks of the street, just as much as the market itself. From more than 1,000 brands and 1,800 collections, the Premium presents a hand-picked selection of sought-after fashion lines and guarantees buyers an interesting view of the fashion of the future.
More information: https://www2.premiumexhibitions.com/de
Show&Order x Premium
The concept of the Show&Order is to provide the buyers with inspiration, stories and emotions. This season approximately 200 fashion, lifestyle and experience brands will present themselves inside the location Kühlhaus, which is very close to the Premium.
On a total of six open floors, visitors can expect and individual range of fashion collections, beauty, interior and design products.
More information: https://www.showandorder.de/
Panorama Berlin x XOOM
Infotainment, entertainment and matchmaking – as am all-in-one trade fair, Panorama once again offers a wide-ranging programme and provides its visitors with inspiration, knowledge and retail solutions.
This season, the organisers are particularly focused on the impulses of other industries and have invited top speakers from the catering and hotel sectors, in order to show what the fashion industry can learn from these in terms of sustainability.
This year's focus will also be on brands with relevance and clear concepts. For the fourth time, XOOM will be represented at the Panorama in hall 5, as a platform for sustainable textiles and green fashion.
More information: https://www.panorama-berlin.com/
Selvedge Run & Zeitgeist
The Selvedge Run will also take place this year at the ExpoCenter, in cooperation with Zeitgeist and the motto: "quality and trust".
The fashion fair stands for fashion consisting of high-quality materials, sophisticated workmanship and timeless value. A mix of latest streetwear themes including denim, craft, current and outdoor will be presented by brands with character and authentic stories. These are characterised by strong products and sustainable production techniques.
More information: https://www.selvedgerun.com/
STREET/CASUAL WEAR
SEEK
SEEK's portfolio, largely characterised by men's wear, is complimented by women's collections, lifestyle products and technology gadgets. Independence, individuality and anti-trend is SEEK's motto.
More than 250 brands from the fields of elevated sportswear, new classics, true craftsmanship and streetwear are presented inside the Arena Berlin, where SEEK will be taking place this season.
Special highlights this summer are the fundraiser with the NGO One Warm Winter, the anniversaries of Alpha Industries, Champion and Farah, as well as the special event by AsicsTiger x Overkill x Blockparty Vol. 2.
More information: https://www.seekexhibitions.com/
SUSTAINABLE FASHION
Sustainability and sustainable fashion are important aspects of the Berlin Fashion Week and can be found again this season.
NEONYT
NEONYT is the world's largest trade fair for fashion, sustainability and innovation. Leading brands and newcomers use this trade fair as a platform for future-oriented and environmentally conscious fashion.
This summer, the doors of the Kraftwerk will open at 9 a.m. At 8:30 a.m. you can start your day with a free retail breakfast and retail talk in the garden. The breakfast is primarily aimed towards conventional multi-label retailers.
More information: https://neonyt.messefrankfurt.com/berlin/de.html
NETWORKING:
FASHION COUNCIL GERMANY
On the 1st of July, the Fashion Council Germany invites us all to the gregarious FCG FIRESIDECHAT. Time to exchange and network. This year it will be hosted with Stylebob & The Walt Disney Company/MARVEL.
Additionally, participants of the GERMAN SUSTAIN CONCEPTS will be exhibiting at NEONYT.
More information: http://fashion-council-germany.online