Berlin Fashion Week: The Highlights of day 3 and 4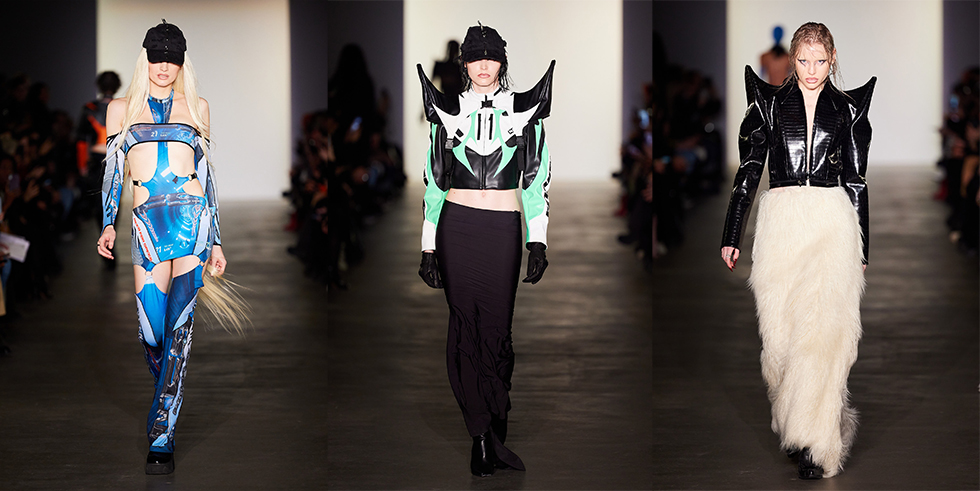 Berlin Fashion Week ends with tribute to subculture of the city
On the third Berlin Fashion Week evening, Namilia made for a racy moment at KantGaragen with a collaboration with gaming icon Need for Speed and a queer motorsport-inspired collection.
Lou de Bètoly conjured an ironic kitsch mood with romantic-morning couture designs and sophisticated knit art at rose-adorned ballroom Queens Palace. Fashion week veteran Marc Cain presented a feminine contemporary collection at spacious Flughafen Tempelhof.
Closing the evening, Scott Lipinski, CEO of Fashion Council Germany, Kerstin Weng, Head of Editorial Content of Vogue Germany, and Michael Biel, State Secretary Senate for Economy, Energy and Operations, hosted the Berlin Fashion Week Dinner to inaugurate the new Papillon Restaurant at Zoologischen Garten. Michael Biel again emphasized the creative spirit of the city that is continuously attracting young talents from all over the world and offers a platform of solidarity for Ukrainian creatives in times of conflict.
Premium and Seek concluded with the third fair day at Messe Berlin. With a party at Hotel Telegraphenamt, the group celebrated Premium's 20th anniversary.
The runway format Berlin Contemporary ended on Thursday evening. The young Berlin based label Haderlump showed, in the catacombs of the old Bötzow brewery, its dark and mystical collection, reminiscent of the Berlin club scene.
For the third season, Ukrainian label Jean Gritsfeldt presented their collection in Berlin, this time at Alten Kraftwerk Oberschöneweide. Olivia Ballard marked the finale of Berlin Contemporary with a, hommage to the city's club culture, melting feminity into unisex forms, presented fittingly at the industrial site of MaHalla.
After interventions that caused a stir throughout the week, PLATTE.Berlin's "DIVERSE IT! - a trialogue in fashion" presented the results of dove designers' conversations and reflections on gender-fluid fashion and offered new perspectives for inclusive fashion.