Show Highlights January 2019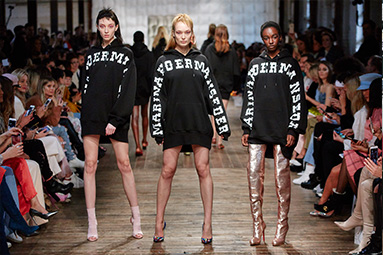 The Berlin Fashion Week is as usual presenting a stunning line up. Here are some of the highlights:
Comeback
Kilian Kerner is celebrating his comeback at the Berlin Fashion Week under the name KXXK after three years of absence. His Prêt-à-Portercollection involves 30 looks for men and women inspired by the vibrating metropolis. Some exclusive pieces will be available online right after the show.
Jubilee
Dawid Tomaszewski is an icon in the world of Berlin's luxury fashion. His love for details and high quality materials made him well-known all over Europe. The Berlin Fashion Week is hard to imagine without him. This year he's celebrating his 10thanniversary.
All Day Show Cases at the MBFW
This Berlin Fashion Week season you can see All Day Show Cases of Esther Perbandt and Isabel Vollrath at the MBFW at Ewerk. Designer Ester Perbandt is representing the typical Berlin gal – avant-garde, androgynous and a little dark. Whereas "IV'R" by Isabel Vollrath is fusing art and fashion with her sculptural cuts.
Menswear
There is colourful and there is Ivanman. Polish designer Ivan Mandzukic, who is usually opening the Berlin Fashion Week, is well-known for is bright patchwork. While trends as color-blocking or layering are usually connected with women, Mandzukic prefers to apply it to his menswear collections and is appealing to men's boldness. This season he's presenting his range on the 16thof January at the MBFW.
Newcomer
Described as a little nerdy, the young fashion label "Danny Reinke" is playing with colors as much as with forms. Founder Julien Kelch likes to combine ready-to-wear pieces with aspects of couture. Last year the up-and-coming talent won the MBFW show slot promoted by the Senate Department for Economics, Energy and Public Enterprises.
Berliner Salon with Lou de Bètoly, William Fan and Marina Hoermanseder
This year's location of the Berliner Salon is already a highlight. The spacious, romantic foyer of Villa Elisabeth with its stucco-adorned pillars is hosting the show of the young designer Odély Teboul "Lou de Bètoly". The Berlin-based label "Lou de Bètoly" is standing for chaos, flamboyance and nostalgia. Her extraordinary craftsmanship is encouraging surrealistic dreams. Her coming fall/winter collection will be perfectly highlighted by the venue's historic ambience.
For more information on Lou de Bètoly click here http://www.loudebetoly.com
Popular designer William Fan is not only an established part of the Berlin Salon but also much talked about internationally.In recent years he brought back the lip pencil, trends such as the zen hair style and even created a soft drink called "Lychee Coffee Bliss". This season his show is at the Knutschfleck Berlin.
The Berlin designer Marina Hoermanseder is part of Berlin Salon and Vogue Salon since 2015. This time her range can been seen at the Vollgutlager of the former Kindl Brewery. Her experimental designs with a mixture of fetish elements and glamour are perfectly underlined by the likewise unconventional venue.
Group exhibition and Vogue Salon
The group exhibition at the Vogue Salon is already a long-term institution and is attracting major fashion buyers, press and business people. This January there will be a selection of local and national designers shown to the public.
Since 2011 Vogue editor-in-chief Christiane Arp is promoting emerging talents with the Vogue Salon and is providing a platform for networking. As part of the Berliner Salon, Vogue Salon is moving to St Elisabeth church and Villa Elisabeth in Berlin-Mitte.
For more information click www.https://derberlinersalon.com/termine/