Berlin Fashion Week: Highlights of day 2 and 3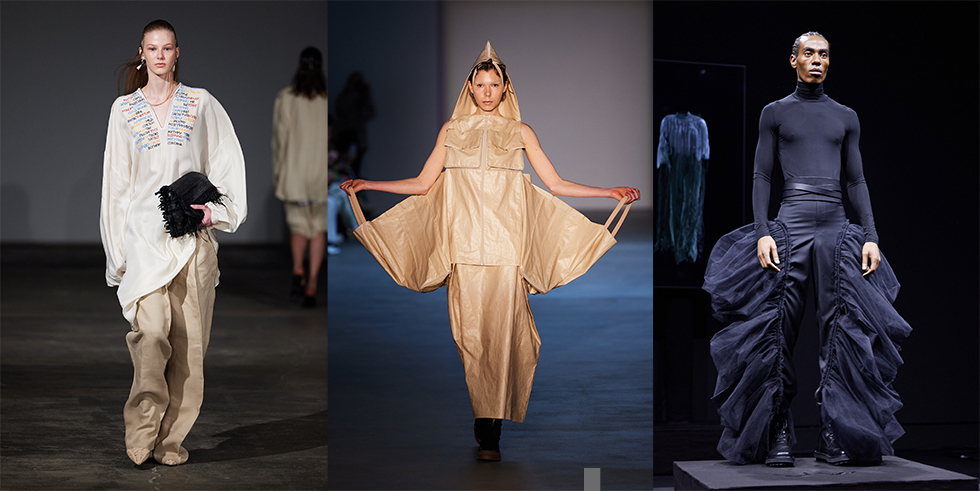 Subculture and Future Visions on the Runways
The second evening of Berlin Fashion Week continued with an immersive performance of 3D pioneer Esther Perbandt with avant-garde designs and holograms at the Kunstbibliothek at Kulturforum. The designer also feted the acquisition of her works into the collection of the Museum of Decorative Art on site. At KantGaragen, Odeeh presented a maximalist feminine winter collection. Designer Rosa Marga Dahl merged old and new and subculture and establishment with an upcycled collection of deconstructed vintage garments for her label SF1OG at Berlin's city hall Rotes Rathaus. The evening concluded with Ukrainian Label Bobkova with elegant tailoring and artful knitworks at KantGaragen.
Day 3 kicked off at KantGaragen with the Ukrainian designer Dzhus with avant-garde designs, that were reminiscent of the tumultuous conditions in her home country, with the versatility of the concept wear being demonstrated on the runway. Fassbender presented their collection of elegant Hanseatic nonchalance at a delightful lunch at KantGaragen. Designer Damur also gave the fabrics a second life as playful dresses, presented at Elisabethkirche. At Feuerle Collection, Ukrainian Designer Litkovska showed her sophisticated collection of tailored suits and dresses among Far-Eastern antiquities and a Ukrainian folk choir. Craftsmanship was also key at LML Studio at one of Berlin's oldest churches, Marienkirche at the heart of the city, where Lucas Meyer-Leclère presented his one-off deconstructed couture pieces accompanied by organ tunes.
At the fairs Premium and Seek at Messe Berlin, national and international retailers viewed premium and streetwear brands in an upbeat mood. The return to Berlin was also welcomed by exhibitors. "A lot has been implemented on the part of the fair that was expressed in wishes after last season - the selection of labels is more curated again and the line is clearer. We are happy about the numerous international visitors," said Sebastian Proft, managing director of the knitwear and wool label STAPF.
202030 The Fashion Summit presented a line-up of renowned speakers from institutions and companies like Condé Nast, Asket and Sustainabelle to discuss pressing issues for a more sustainable fashion industry, while PLATTE.Berlin dedicated events and discussions to driving diversity in fashion.
Further events on Wednesday evening:
18h Namilia
19h Marc Cain
19:30 Lou de Bètoly
20h FCG x Vogue Fashion Week Dinner