Selvedge Run under the auspices of Panorama Berlin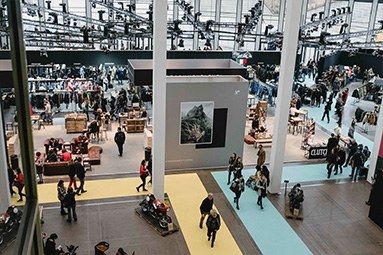 This year's Selvedge Run takes place for the first time under the auspices of Panorama Berlin with an even larger portfolio.
Soon, Selvedge Run will for the first time take place under the auspices of Panorama Berlin. Last autumn, Panorama Berlin GmbH took over the renowned exhibition for "quality garments and crafted goods". The organizers expect the merger to be an important step towards strengthening the orientation and vision of the future with a greater focus on global industry issues. "With Selvedge Run as an integral part of Panorama Berlin, we will be able to reach new target groups and build valuable synergies", says Jörg Wichmann, CEO of Panorama Berlin.
Growing portfolio
Selvedge Run will continue its proven concept from now on in the south hall of Panorama Berlin, presenting brands that, according to the organizer, "stand out with their value, sustainable manufacturing techniques and authentic stories." Entirely in keeping with this year's slogan #ReachnextLevel, visitors and exhibitors can also look forward to great innovations in 2019: the portfolio will be extended to include topics such as current, sports and active fashion. Both global traditional brands and newcomers as well as young designers will be presenting their nature, active and sports outfits to a broad audience.
Selvedge Run benefits from Panorama Berlin
With strong denim and heritage brands, Selvedge Run has long since become firmly established among the professional audience. Over the past seven shows, it presented brands that were in part exclusively available for order in Europe from Selvedge Run. Shane Brandenburg (co-founder and sales manager of Selvedge Run) will remain responsible for the content design in the exhibition area. He is convinced that the show will benefit from the reach and organizational strength of Panorama Berlin. Since its premiere in January 2013, Panorama Berlin has developed into an important marketplace for fashion. Today, it presents more than 600 brands on an exhibition space of around 35,000 square metres.
For more information visit:
https://www.panorama-berlin.com/
https://www.selvedgerun.com/