Berlin Fashion Week debuts in March with numerous programme highlights and sets a sign of solidarity with Ukraine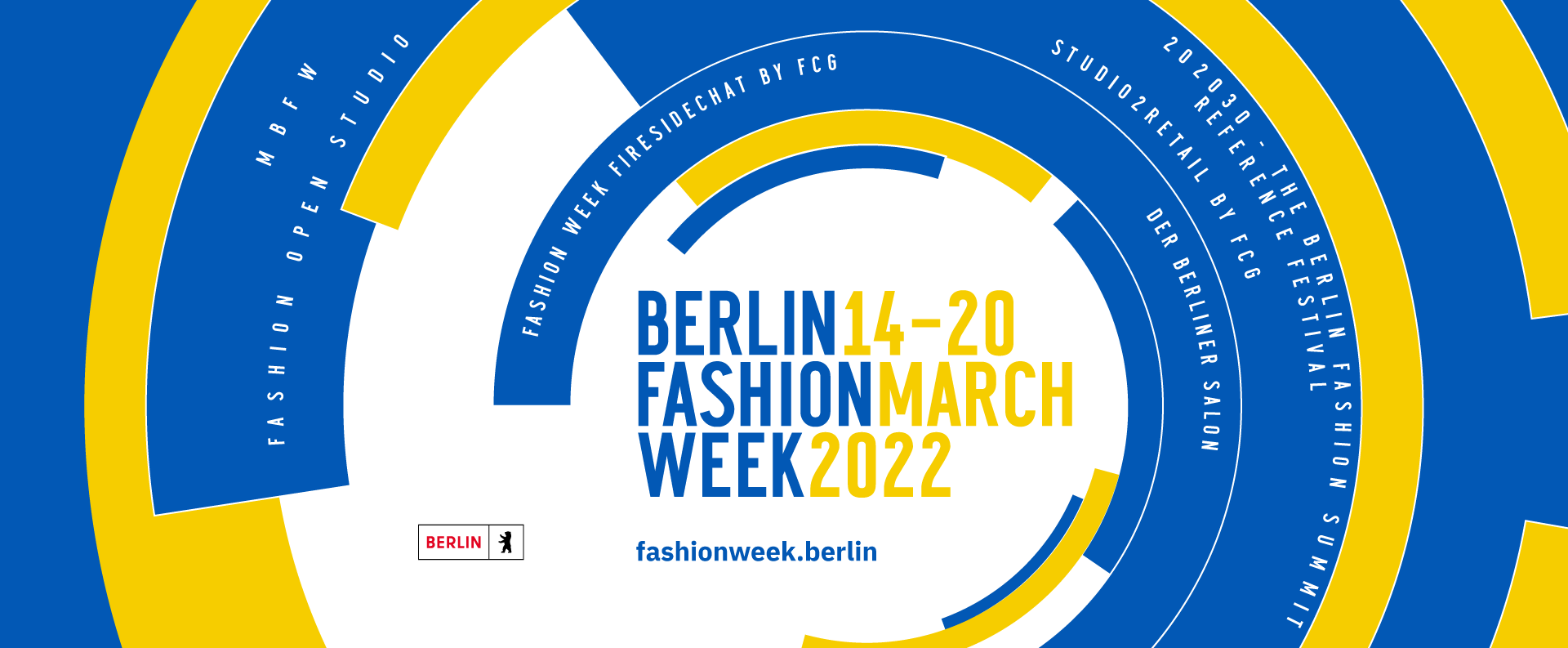 This year, for the first time, Berlin Fashion Week is taking place in March (14th to 20th March) and is presenting a strong, varied programme for the spring edition, characterised above all by diversity and interdisciplinarity. The focus of Berlin Fashion Week is on the guiding themes of sustainability, innovation and the influence of different subcultures.
The programme includes fashion shows, exhibitions, fashion installations, panel talks as well as numerous side events for trade visitors and fashion enthusiasts by contemporary national and international designers, new design talents, established premium fashion brands and relevant key players.
The German capital thus underlines its claim to be the most relevant stage for creatives from fashion, art, music and subculture in Europe and strengthens its position as the European Capital of Creative Industries.
Berlin Fashion Week shows solidarity with Ukraine
With regard to the Russian invasion of Ukraine, the organisers of Berlin Fashion Week are sending a clear signal and expressing their solidarity with Ukraine. The key visual of the Berlin Fashion Week has been redesigned and shows the national colours of Ukraine. The organisers will call for donations. Many Berlin institutions and networks will be involved in collecting donations in kind and money.
Official opening of the Berlin Fashion Week on 14th March
The Berlin Fashion Week will be opened on the morning of 14th March by Stephan Schwarz, Senator for Economic Affairs, Energy and Industry, at a reception attended by all the participating organisers, organisations and representatives of brands and the media at Kraftwerk Berlin.
"Berlin is the most important location for the creative industry in Germany and stands for creativity, diversity and innovation both nationally and internationally. With Berlin Fashion Week, we are offering this industry a platform in Germany with an international format," explains Stephan Schwarz, Senator for Economy, Energy and Operations in Berlin.
The Berlin Senate Department for Economic Affairs, Energy and Industry is supporting part of the formats and the location marketing measures for Berlin Fashion Week this season with over 750,000 euros.
Safety first
All Berlin Fashion Week events will take place digitally as well as live and in strict compliance with the legally prescribed safety conditions within the framework of the SARS-CoV-2 infection control measures ordinance as well as an extensive and strict hygiene concept.
The programme highlights of the upcoming Berlin Fashion Week:
Mercedes-Benz Fashion Week is the traditional prelude
Berlin Fashion Week kicks off with Mercedes-Benz Fashion Week (MBFW), which takes place both physically at Kraftwerk Berlin and digitally. The organiser presents an interplay of spatially staged runway shows, exhibitions, panel talks and digital formats characterised by sustainability, internationality and digitalisation. Renowned designers and established fashion brands such as Kilian Kerner, Rebekka Ruétz, Justin Cassin, Marcel Ostertag and Eli by Elias Rumelis will show their designs. The MBFW kick-off show on 14 March will be an up-and- coming, still secret design talent presented by Mercedes-Benz.
Date: 14th to 20th March
Website: mbfw.berlin
The Berliner Salon as the heart of the German fashion industry
The Berliner Salon will also take place physically at Kraftwerk on 14th March in partnership with the Berlin Senate Department for Economics, Energy and Operations and Mercedes-Benz. As the heart of the German fashion industry, the important group exhibition curated by Christiane Arp will showcase German design talents and manufactories from the disciplines of fashion, jewellery and accessories. Amongst them: Aeyde, Rianna+Nina, Dawid Tomaszewski, Esther Perbandt, Hannibal, Julia Leifert, René Storck, Lala Berlin, Karen Jessen and Odeeh.
Date: 14th March
Website: mbfw.berlin
Fashion Open Studio presents and promotes emerging design talent
As part of the Fashion Open Studio programme, an initiative of Fashion Revolution, 15 sustainable national and international fashion labels will be supported through various formats. These include the three-part group exhibition "Product & Purpose", which will take place at the following locations: Superconscious Store, POOL and 202030 - The Berlin Fashion Summit. Special attention will be paid to the emerging designers AMESH, Emeka, Joao Maraschin, Melisa Minca, Patrick McDowell and Vladimir Karaleev.
This will be complemented by a series of mentoring sessions, studio visits, short films and expert talks on the theme of "Money, Fashion, Power". This ongoing programme aims to change the way we think about our clothes and show real solutions in practice. Fashion Open Studio invites you to meet the designers to understand their work and create room for exchange.
Date: 14th – 17th March
Website: fashionopenstudio.com
High-profile industry leaders at 202030 - The Berlin Fashion Summit
202030 - The Berlin Fashion Summit is an interdisciplinary platform where avant-garde creatives and fashion industry stakeholders come together to seek reflective dialogue on the future of fashion. The aim is to facilitate sustainable synergies and constructive transformations.
Highlights of the 202030 Summit include presentations and hybrid live panels with a conglomerate of diverse industry insiders on the topics of regenerative economy and fashion, local ecosystems and businesses, and positive visions for the future.
The organisers, Studio MM04, innovation agency Sqetch and Beneficial Design Institute, can once again draw on a top-class pool of experts. Among them are Aras Baskauskas (CEO of Christy Dawn), Christian Dietrich (Co-Founder of Sfeeri), Clare Bergkamp (COO of Textile Exchange), Prof. Dilys Williams (Director of the Centre for Sustainable Fashion at the London College of Fashion), Ingo Strube (Department GII2 at the BMUV) and Lisa Jasper (Founder Folkdays).
Date: 15th – 17th March
Website: 202030summit.com
Studio2Retail strengthens Berlin's retail trade
With the Studio2Retail, which takes place on behalf of the Berlin Senate Department for Economy, Energy and Business, the Fashion Council Germany wants to draw the attention of the end consumer to the versatile retail trade of the city of Berlin and its designers. As a result, Berlin-based designers and retailers had the opportunity to submit a creative event concept. The eight most creative event concepts, including Nella Beljan Showroom & Gallery, SF 1 OG and Susumu AI, were awarded a total of 60,000 euros.
Exclusive shopping events, studio insights and pop-ups, such as in PLATTE.Berlin, are intended to make stationary retail attractive again.
Date: 14th – 19th March
Website: studio2retail.berlin
The Firesidechat as an exclusive networking event
The Firesidechats of the Fashion Council Germany are a fixed institution of Berlin Fashion Week. At the established networking event, important players in the German fashion industry meet to enter into dialogue in an informal atmosphere.
As a special programme item, the winners of the FASHION X CRAFT call for applications, the joint funding programme with the Swarovski Foundation and The Prince's Foundation, will be presented.
Date: 16th March
Website: fashion-council-germany.org
Reference Festival
Reference Studios presents the 4th edition of the Reference Festival this season. The interdisciplinary and future-oriented festival includes five designer showcases, as well as panels moderated by Hans Ulrich Obrist and organised at different locations around the city.
Date: 16th – 20th March
Website: referencestudios.com
Many Side-Events
In addition to the established programme highlights, numerous exciting side events enrich the diverse calendar of Berlin Fashion Week and contribute to its international appeal.
These include an interdisciplinary launch event by Fashion Coucil Germany and the Cabildo de Gran Canaria, patron of the Gran Canaria Swim Week, at which fashion installations by curated Canarian and German designers will be presented.
Date: 14th March Location: Von Greifswald
The Berlin Fashion Week Calendar
A complete overview of all Berlin Fashion Week events can be found in the official Fashion Week calendar at:
https://fashionweek.berlin/kalender.html
In addition, updates, interviews and reports reflecting the broad spectrum of Berlin Fashion Week are regularly published on the website.