The Berlin Fashion Week Campaign Motif for January 2019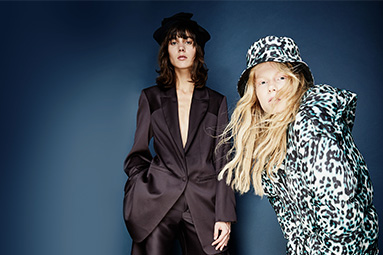 The campaign motif for the autumn/winter season of 2019 has been determined.
In collaboration with the photographer Gregor Hohenberg and the Berlin based stylist Daniel Sartore, the campaign motif for the Berlin Fashion Week January 2019 has been created. It was developed in favor of the Senate Department for Economics, Energy and Public Enterprises, as well as of Berlin Partner for Economics and Technology. Gregor Hohenberg assisted Wolfgang Tillmanns in London for two years, and implemented campaigns for Joop, Y3, Nike and Hugo Boss. He also shot editorial images for the New York Times Magazine, GQ, German Vogue, Brutus and the so called Achtung Magazine. Hohenberg's unique photographic style combines both elements, fashion and storytelling. In his photography this combination forms a dynamic composition.
What particularly stands out in the campaign motif are the trend colors, staged in a style that is very typical for Berlin. A new aspect of this coming seasons motif, is that two models wear two completely different looks by Berlin based designers.
The stylist Daniel Sartore combined these looks in order to represent the Berliner zeitgeist. The outfits worn by the models had to be by designers from Berlin, who particularly represent this style of the German capital city. Malou, the model on the left, is wearing an outfit by Brachman and a hat by Odeeh. Emily is wearing a down jacket and dress with a modern leopard print by Lala Berlin.